Tora-san Confesses 男はつらいよ 寅次郎の告白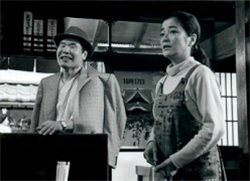 Torajiro, known as Tora-san, is on a trip to Tottori prefecture. Bumping into Izumi, who is the girlfriend of his nephew Mitsuo and who has failed to get a job in Tokyo, he discovers that she has run away from her home as she is not happy about her mother's remarrying. Having received a postcard from her, Mitsuo immediately follows her. The three reunite on a spectacular sand dune. Tora-san takes them to a local inn run by his old flame, Seiko. Seeing the old friends sit up late, drinking, talking and flirting, Mitsuo and Izumi learn a few things about romance, tact, forthrightness and lost opportunities. Izumi's resentment towards her mother gradually diminishes. Will Tora-san confess his true feelings to Seiko? Later, back in Tokyo, Mitsuo and Izumi meet once more to reconsecrate their friendship and perhaps their love, while Tora-san is oblivious to the difference he has made in the young people's lives.
The Tora-san series, collectively entitled It's Tough Being a Man (Otoko wa tsuraiyo), for which a total of 48 films were produced during the 27 years from 1969 to 1995, is the longest-running hit series in the history of cinema. The character of Tora-san is an old stereotype from the Edo-era, known as Edokko (or "child of Edo"), and the series still induces nostalgia across Japan for the graciousness and hospitality one encounters in the provinces. This is the 44th episode in the series.
Date: 27 September 2016, 6.30pm
Venue: The Embassy of Japan in the UK, 101 – 104 Piccadilly, London W1J 7JT
Web: http://www.uk.emb-japan.go.jp/en/event/films/films_booking.html
Organiser: The Embassy of Japan in the UK