Traditional Korean Music Concert – Julpungyu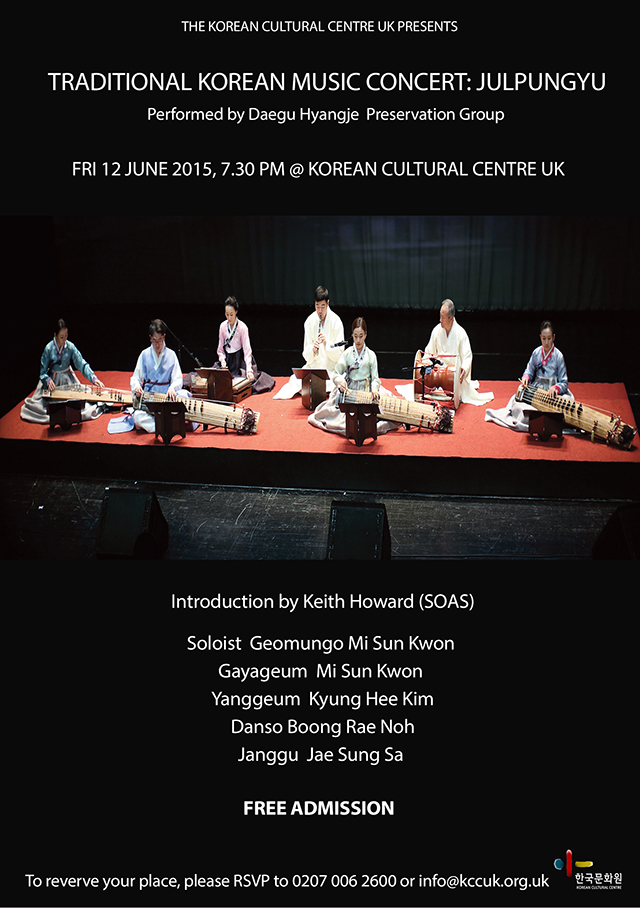 The Korean Cultural Centre UK is proud to present a concert of Traditional Korean Music on Friday 12 June 2015. The five outstanding performers that make up the Daegu Hyangje Julpungyu Preservation Group will come to the KCCUK to perform 'Julpungnyu'.
Julpungyu, is a regional wind and string ensemble suite also known simply as pungnyu or more completely as hyangjje jul pungnyu, link sanjo and sinawi. Jul pungnyu also forms a link between performance and scholarship, since it is the focus of considerable academic research as many old scores have survived to this day.
Julpungnyu is based on 5 traditional Korean Music instruments, namely Goeomungo (six-string wither), gayageum,(12 string wither), yanggeum(played by striking the strings with a bamboo stick), and Danso(a short bamboo flute). From these instruments, the Julpungnyu is mainly based around the Geomungo. This Concert will provide visitors with the wonderful opportunity to discover the delights of traditional Korean music. Professor Keith Howard form SOAS, University of London will kindly given an introduction to Julpungnyu and Korean Traditional Music prior to the performance.
Programmes
1. Suyeonjangjigog – Geomungo Solo
2. Cheongseonggog -Danso Solo
3. Choeogsamlyu Gayageum Sanjo – Gayageum Solo
4. Four Seasons – Yanggeum Solo
5. Cheon Nyeon Man Sae (eternal lasting)
Artists
Soloist Geomungo / Sun Suk Yoo
Gayageum/ Mi Sun Kwon
Yanggeum/ Kyung Hee Kim
Danso/ Boong Rae Noh
Janggu/ Jae Sung Sa
Date: Fri 12 June 2015, 7.30pm
Venue: Korean Cultural Centre UK/ Multi-Purpose Hall