Two Nights With Playwright Hideto Iwai (Talk and Play Reading)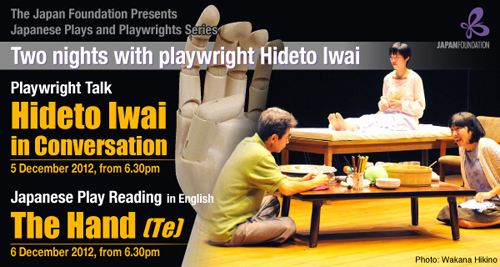 The Japan Foundation has invited Hideto Iwai, one of the most astounding and timeliest playwrights of his generation, to the UK to have his work presented. Through a special talk (Wednesday 5 December) as well as a play reading of his representative work The Hand (Thursday 6 December) for the first time outside Japan, the two events will showcase Iwai's idiosyncratic writing style and his career, providing a captivating insight into the dynamism of a current trend in Japanese theatre.
Playwright Talk
Hideto Iwai in Conversation
Showcasing past examples in this illustrative talk, Iwai will demonstrate how he tries to approach certain issues directly impacted upon him or other people through his work, explaining what he believes theatre should be for. Of the generations of playwrights born in the 1970s who have contributed to the flourish of diverse contemporary Japanese theatre, Iwai, together with Christopher Campbell, Literary Manager of the Royal Court Theatre, will also discuss the dynamism of new writing in Japan and suggest what the younger generation of playwrights can offer in the future.
Date: 5 December 2012, from 6.30pm
Venue: The Japan Foundation, London
Japanese Play Reading in English
The Hand (Te)
Written by Hideto Iwai
(Translated by Katsunori Obata)
Directed by Richard Twyman
Followed by a brief Q&A with Hideto Iwai
The Yamada family, now grown up and independent, have for years suffered irrational violence from the father. Upon the eldest daughter's suggestion of a family get-together while their aging grandmother is still alive, they all soon find out that the underlining issues still remain. The grandmother passes away during their bickering, and shifting the blame on each other, the family remains fractured and unrepentant even at the funeral…
Portraying the unfolding events through the differing perspectives of two family members, Hideto Iwai's semi-autobiographical account of a dysfunctional family is an exploration of the dark and weaker aspects of human nature, fused with cynical and absurdist humour.
Date: 6 December 2012 from 6.30pm
Venue: The Japan Foundation, London