UK Cinema Release of Lee Chang-dong's POETRY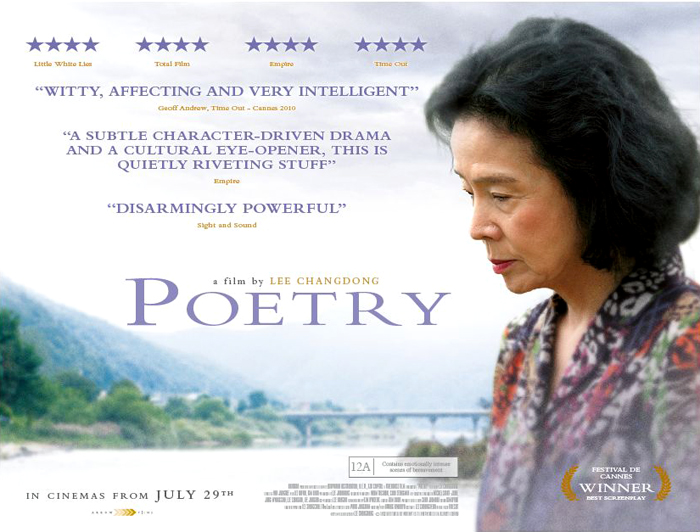 To open in cinemas nationwide on July 29th
A masterful study of the subtle empowerment of an older woman who refuses to give up on life, Poetry is the fifth film from novelist turned film director Lee Chang-dong, and the deserved winner of Best Screenplay at last year's Cannes Film Festival. Poetry will open in cinemas nationwide on July 29th, having received a total of seventeen domestic and international film awards, including the coveted FIPRESCI award from the International Federation of Film Critics.
Mija (veteran actress Yun Jung-hee who came from a 16 year retirement from film to take on this role) is a beautiful grandmother in her sixties who moves gracefully through life, contemplating a trivial daily routine that is ill-suited to her refined persona. With warmth, elegance and a dash of eccentricity, Mija takes care of her ungrateful grandson Wook (Lee David) and makes a living caring for an elderly man, paralyzed by a stroke.
On a whim, Mija enrolls in a poetry class at the local cultural centre and begins a personal quest to find the perfect words to describe her feelings. In the class, she watches her teacher guide his students as they search for the way to write their poem, plumbing their histories and their emotions. For Mija, who lives in a cramped apartment, the poetry class is a way to escape her mundane existence.
However, she's plagued by the onset of Alzheimer's disease, and struggles with familiar nouns and the challenges of the creative process. The breakthrough for Mija comes when she discovers that Wook, her grandson and five of his friends, are implicated in the suicide of a classmate, who is found floating face down in the river, having accused them of rape. Mija's world is turned upside down by the discovery of this monstrous crime, and it is her unique and touching poetry that allows her to continue to embrace life.
Poetry is a heartbreaking individual story, a mysterious, redemptive and cathartic film that also transcends itself and seems to speak for all of us.