UK recital tour by the pianist Kyoko Hashimoto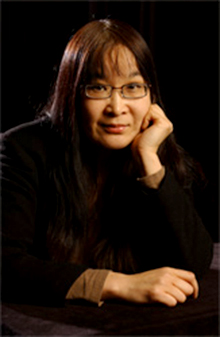 Described as a "wonderful pianist and deep musician" by the great violinist Sandor Vegh, Kyoko Hashimoto has hardly been heard in the UK since she moved to Montreal twelve years ago to become head of piano at the Schulich School of Music at McGill University.
This March she visits Britain for a two week recital tour, giving solo programmes in London, Canterbury and at the beautiful new venue of Cooper Hall outside Frome in Somerset and duo recitals with Ben Hancox, leader of the Sacconi String Quartet, in London and Folkestone. She is also taking a public master class for advanced piano students at Wells Cathedral School.
Her solo programme of works involving dance forms by Bach (the c minor Partita), Brahms (16 Waltzes, op. 39), Beethoven and Bartók (Dance Suite) is that of her new CD, released on 25th February in Japan. Rob Cowan included her performance of one of Schubert's D.935 Impromptus from her last CD in a special programme of 'great Schubert performances' alongside recordings by Heifetz, Dietrich Fischer-Dieskau, Edwin Fischer, etc. A French specialist hailed her Debussy Preludes from the same live recital disc as one of the three finest ever recorded. The Japanese critics of the Tokyo concert agreed: "I was mesmerized by this outpouring of pure rich fantasy", "Hashimoto is an international concert pianist of the highest class".
This is the musician that UK audiences will have a rare chance to hear in live performance this spring.
Ticket: Please check each venue
Friday 21st March  8 pm
Lecture recital at Cooper Hall, Frome
Bach Partita in C minor, BWV 826
Brahms: 16 Waltzes, op. 39
Beethoven: 12 Variations on a Russian Dance, WoO 71
Bartok: Dance Suite
Saturday 22nd March 10 am
Wells Cathedral School
Public piano masterclass
Sunday March 23rd 4 pm
St Mary & St Eanswythe, Folkestone
Violin and piano recital with Ben Hancox, leader of the Sacconi Quartet: More info
March 27th 7.45 pm
St. Gregory Centre for Music, Canterbury Christ Church University
Piano recital:
programme as March 21st
Date: 21 – 27 March 2014
Venue: Various
Web: http://www.kyoko-hashimoto.com
Organiser: Kyoko Hashimoto