unEVEN ELeven: Makoto Kawabata / Charles Hayward / Guy Segers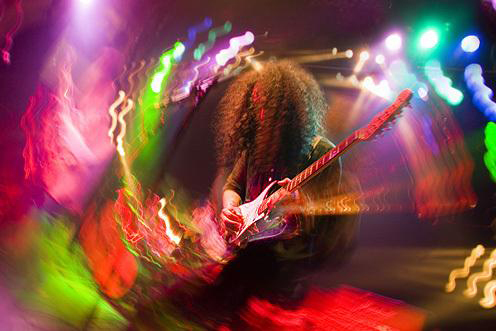 unEVEN ELeven is a startling new initiative, injecting the 'ROCK POWER TRIO' with a new dose of artistic expression, creativity and freedom. Acid Mothers Temple's Makoto Kawabata is joined by the propulsive, powerhouse drumming of Charles Hayward and bass player Guy Segers (of Univers Zero and more…)
KAWABATA MAKOTO / guitar
Since 1978 Makoto Kawabata has been the leader of Acid Mothers Temple, a group which seems to be in a constant state of movement, whilst also finding time for playing solo and with many bands and projects, often in collaborations such as Acid Mothers Gong (with Daevid ALLEN and Gilli SMYTH), Acid Mothers Guru Guru (with Mani NEUMEIER), as well as performances and recordings with luminaries of the deep global underground like Simeon of Silver Apples, Damo SUZUKI (ex.CAN), J.F. Pauvros, Keiji Haino, etc.
GUY SEGERS / bass guitar
Playing since 1965, first recording "Hérésie" with Univers Zero (1978). Guy continued to perform and record with Univers Zero for the next 10 years, touring throughout Europe. Later he worked with several groups investigating and developing diverse musical attitudes. Guy has been involved with many bands and recordings including WIM Big Band (with Albert Mangelsdorf, Peter Brotzmann, etc.), Pierre Vervloesem (with Charles Hayward), X-Legged Sally, Tim Hodgkinson (with Dagmar KRAUSE), GUTS, Franck Balestracci, Princesse Mansia M'Bila, Finnegans Wake, The Morton Fork Gang, Acid Mothers Temple (with Makoto Kawabata), Acid Mothers Guru Guru & Gong (with Daevid Allen), Morgan Agren. He is currently a member of the Belgian band Emergent Sea.
CHARLES HAYWARD / drums, keyboard, voice
Drummer, songwriter, vocalist, Charles' first recording was Quiet Sun with Phil Manzanera and he went on to be prime instigator of This Heat and Camberwell Now. Since the late 80's he has worked primarily as a solo performer, playing throughout the world and releasing a series of discs, each proposing a possible future. He has also initiated group, site specific and installation projects, deliberately using contrary methodologies: song and improvisation, tonality and noise. Collaborations include Massacre (with Fred Frith and Bill Laswell), The Raincoats, COIL and About Group (with Alexis Taylor of Hot Chip).
Admission :£10 adv / £12 on the door
Date: 24 May 2013
Venue: Cafe OTO, 18-22 Ashwin Street,London E8 3DL
Tel: 020 7923 1231
Email: info@cafeoto.co.uk
Web: http://www.cafeoto.co.uk/uneven-eleven-makoto-kawabata-charles-hayward.shtm
Organiser: Cafe OTO