VAMPS (JPN) Live in London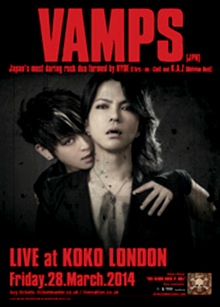 VAMPS (JPN) will return to the UK for a one-off headline show on MARCH 28th!!
This event will take place at KOKO, North London, and sees VAMPS(JPN) – one of Japan's most successful & daring rock acts – returning to the UK in the wake of their sold-out show last October at London's Islington Academy.
VAMPS are formed of L'Arc~en~Ciel's vocalist HYDE and Oblivion Dust guitarist K.A.Z. Having already released two best-selling albums in Japan and established a rapidly growing live following in Asia, Europe, North America and South America, 2014 promises to be the year that VAMPS become the biggest Japanese band in history and break out into the global market. This will be their second gig in London, bringing their high octane fist pumpers and melodic reflective ballads for the delight of rock fans around the world.
Admisstion: £22.50
Date: 28 March 2014
Venue: KOKO, 1A Camden High Street, London, NW1 7JE
E-mail: International.sales@thisismetropolis.com
Web: http://www.koko.uk.com/listings/vamps-jpn-28-03-2014
Organiser: METROPOLIS