Vegalta: Soccer, Tsunami and the Hope of a Nation – Documentary screening and discussion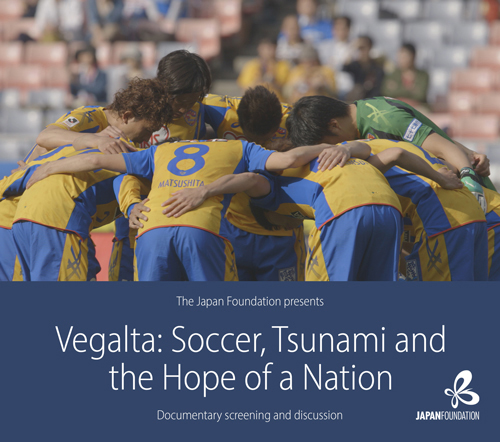 Six years after the Tohoku earthquake and tsunami of 2011, the Japan Foundation presents a screening of Vegalta: Soccer, Tsunami and the Hope of a Nation, a documentary telling the story of how a Japanese football club and their legendary fans set out on the long road to rebuild their hometown.
On 5 March 2011, Vegalta Sendai, a professional football team based in the north-eastern region of Japan, opened their 2011 campaign. Still newly promoted to the top flight of Japanese football, the team's focus was very much on survival. Six days later, the word took on a distinctly different meaning.
British filmmakers Douglas Hurcombe and Geoff Trodd travelled to Sendai to capture this remarkable story, following the response of both the team and its supporters in the aftermath of the disaster. Featuring interviews with the team's staff, players and supporters, as well as former Japanese league player Gary Lineker OBE, the film demonstrates how the team's activities both on and off the pitch not only helped give the city renewed hope, but would capture the imagination of the footballing world. In the run up to the 2020 Tokyo Olympic and Paralympic Games, this film illustrates how sports can be close to people's hearts and be instrumental in bringing communities together.
Date: 5 April 2017 from 6.30pm
Venue: Prince Charles Cinema, 7 Leicester Place, London WC2H 7BY