Veteran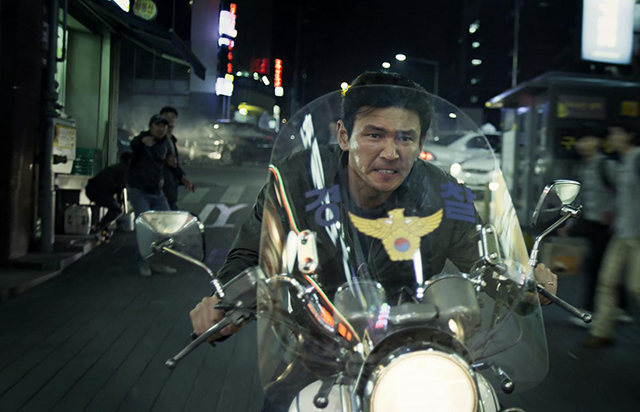 Director: Ryoo Seung-wan
Cast: HWANG Jung-min,YOO Ah-in, YOO Hae-jin, OH Dal-su South Korea / Korean with English subtitles
Action Crime / 124 mins / 2015
A tough cop takes aim at the criminal heir of a corporate conglomerate in this brilliantly entertaining new thriller from South Korea's top action director.
Acclaimed for previous hits such as City of Violence, The Unjust, and The Berlin File, director Ryoo Seung-wan returns with one of his most stylish and exhilarating offerings yet. Veteran builds a multi-layered story of a determined policeman trying to bring down a powerful criminal and infuses it with humour and social consciousness. Everything culminates in the thrilling, elaborate, and hilariously over-the-top action sequences that have become Ryoo's trademark.
Hwang Jung-min (The Unjust, Ode to My Father) stars as brash, impulsive major crimes detective Seo Do-cheol, renowned as much for his ready fists as for his cleverness and determination. When a truck driver winds up comatose after an apparent suicide attempt, Do-cheol comes to suspect Cho Tae-oh (Yoo Ah-in), the sociopathic, cocaine- addicted heir apparent to the multi-billion-dollar Sunjin Group, for which the driver had worked. But Tae-oh will stop at nothing to protect his position above the law.
Aided by the dynamic choreography of long-time collaborator Jung Doo-hong, director Ryoo takes the audience on a wild ride in Veteran. As played by Hwang, the scrappy Do-cheol is one of the most engaging detective heroes in recent cinema. He meets his match in the arrogant young Tae-oh, who carries to a delirious extreme all the worst qualities that could be imagined in the business elites who run the South Korean economy. With its rage for social justice, its cast of popular actors, and its state-of-the-art action scenes, Veteran has struck a chord with the public. Released in Korean cinemas in August, the film has already become one of the most popular films of all time in its country.
About director Ryoo Seung-wan
Since taking the Korean film scene by storm with his ultra-low budget debut feature, Die Bad, Ryoo has been making noteworthy films in the action and thriller genre such as Arahan, Crying Fist, City of Violence and Dachimawa Lee. Nicknamed 'Chungmuro's Action Kid' (Chungmuro being Hollywood's equivalent in Seoul), Ryoo's crime thrillers are characterised by a hardedged style with an emphasis on lavish action sequences. His 2010 crime drama The Unjust, a dissection of the corruption in modern Korean society's privileged classes, garnered critical acclaim and commercial success with 2.76 million admissions, and went on to win Best Director at the Blue Dragon Awards. His follow-up film The Berlin File set a new box-office record for the espionage genre with 7.16 million admissions. Ryoo returns with his latest, action-packed crime drama Veteran, about a showdown between police detectives
and the tyrannical heir to conglomerate who believes he is above the law. "It all started off from the idea how cool it would be to have a cop like Do-cheol around," says the director. "I hope this hot-blooded cop who stops at nothing to see justice done will give the audience vicarious satisfaction and cathartic relief." Veteran is the latest must-see action flick from Ryoo Seung-wan to capture the essence of his unique style.
Ryoo Seung-wan Selective Filmography:
Veteran (2015), The Berlin File (2013), The Unjust (2010), Dachimawa Lee (2008), The City of Violence (2006), Crying Fist (2005), Arahan (2004), No Blood No Tears (2002), Die Bad (2000)
Date: Tuesday 3 Nov 2015, 20:10
Venue: Regent Street Cinema, 309 Regent St, London W1B 2UW