Vickers Bovey Guitar Duo recital: Thirty Six Views of Mount Fuji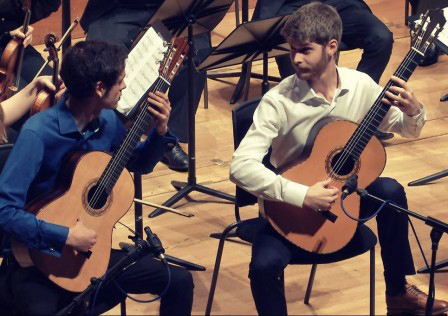 Thirty Six Views of Mount Fuji is a brand new large-scale work for two guitars, composed by Ryan Probert in collaboration with the Vickers Bovey Guitar Duo. This concert marks the culmination of their four-year-long project, and celebrates the CD release of this delicate yet expansive piece. Click here to listen to a preview.
Taking inspiration from both Hokusai's famous woodblock prints and Probert's own time in Japan, the thirty-six movements enchant in their serenity and contrast, described by the Daily Telegraph's Ivan Hewitt as 'charmingly Satie-like in their oddity, and played with truly uncanny unanimity by guitarists Julian Vickers and Daniel Bovey'. The concert will also feature music from Sergio Assad's Summer Garden Suite for two guitars, composed for the 1994 film Natsu no Niwa (The Friends), and a set of solo improvisations and classical Japanese works performed by shakuhachi flautist Clive Bell.
The Vickers Bovey Duo owe a debt of gratitude to the Great Britain Sasakawa Foundation for financial assistance with album production costs.
Date: Friday 8 April 2016, 7.00pm
Venue: The Swedenborg Society, 20-21 Bloomsbury Way, London WC1A 2TH