"Villain" UK FILM RELEASE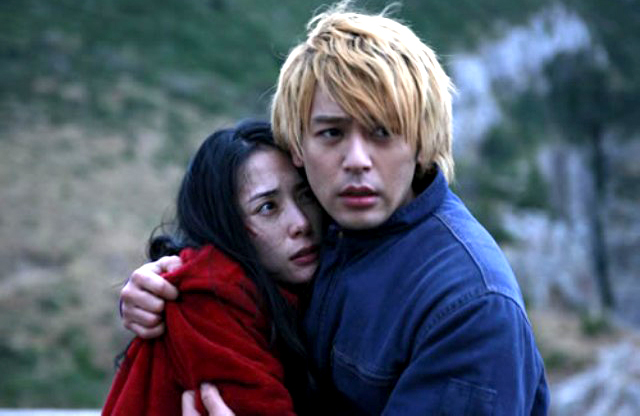 Date: From 19th August
Venue: ICA, The Mall, London SW1Y 5AH / Curzon Renoir, The Brunswick, London, WC1N 1AW / and slected cinemas nationwide
Web: https://www.facebook.com/VillainTheMovie?sk=wall
Web: http://www.ica.org.uk/films
Web: http://www.curzoncinemas.com/cinemas/renoir/
Organiser: Third Window Films
With over twenty companies bidding for the film adaptation rights, and many of Japan's top directors vying for the project, Lee Saing-li's adaptation of Shuichi Yoshida's award-winning novel Villain was one of the most hotly anticipated films of 2010. A critical hit at festivals both at home and abroad, Villain swept the board at the Japan Academy Awards, receiving fifteen nominations in thirteen categories, including Best Picture, Best Director and Best Score, and winning awards in all four acting categories. Villain was also selected by the famous Kinema Junpo critics' organization as best Japanese film of the year.
Directed by Lee Sang-li, whose inspirational and hugely popular Hula Girls (2006) won Best Picture at the Japanese Academy Awards, Villain boasts a stellar cast headed by Tsumabuki Satoshi ("The Magic Hour") and Fukatsu Eri (who won the Best Actress award at the 2010 Montreal World Film Festival for her stunning performance), with support from Mitsushima Hikari, ("Love Exposure"), Kiki Kirin ("Still Walking"), Emoto Akira ("April Bride"), and Okada Masaki ("Confessions"). The music is composed by world-renowned Joe Hisaishi, who has scored many films by Hayao Miyazaki and Takeshi Kitano. Villain will open in cinemas in the UK on August 19th through Third Window Films.
Yuichi (Satoshi Tsumabuki) is a construction worker who has lived his entire life in a dreary fishing village. With no girlfriend or friends, he spends his days working and looking after his grandparents, with no enjoyment in life other than his car. Meanwhile, Mitsuyo (Eri Fukatsu) also lives a monotonous life pacing between the men's clothing store where she works and the apartment where she lives with her sister. When the two lonely souls meet using an online dating site, they immediately fall in love with each other. But there's a secret Yuichi had been keeping from Mitsuyo: Yuichi is the one suspected of killing the woman whose body was found at Mitsue Pass only a few days before…
As Yuichi and his new lover try to elude the police, the events that led up to the murder and its aftermath are revealed. We learn the stories of the victim, the murderer, and their families – stories of loneliness, love hotels, violence and desperation, exposing the inner lives of men and woman who are not everything they appear to be.
A heart rendering story with electrifying performances from the two leads, Villain works both as a powerful character study and as a gripping thriller with enough twists and turns to keep you guessing throughout.
[pro-player width='550′ height='253′ autostart='true' type='video']http://www.youtube.com/watch?v=F_Z1_iIauxw[/pro-player]