Violin legend Kyung Wha Chung makes comeback to the UK stage with recitals in London and Liverpool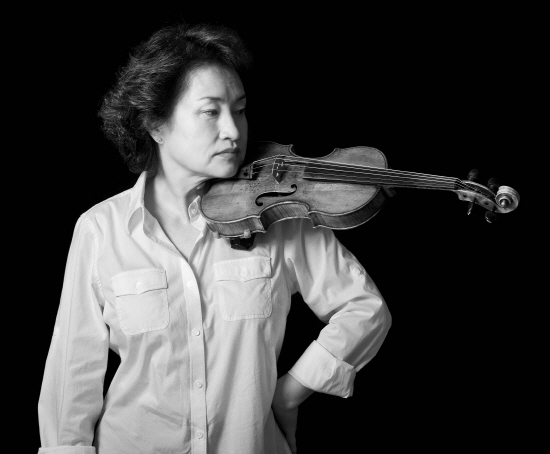 Returning to London for the first time in twelve years, the multi-Gramophone-award- winning violin legend Kyung Wha Chung gives a comeback recital at the Royal Festival Hall with pianist Kevin Kenner on 2 December 2014, following a preview in Liverpool. The Korean violinist is back in full force following a finger injury, which forced her to retire early from the stage at the peak of her career. Over the past decade, Chung has devoted her energies to mentoring young musicians alongside charity performances until last year, when she made her official return to the stage with a 15-destination Asian tour. In the lead up to the 45th Anniversary of her first CD, DECCA Classics is releasing a commemorative box set of her complete recordings for the label on 3 November to mark this milestone.
The 19-disc box set includes Chung's first recording of Tchaikovsky and Sibelius Violin Concertos (1970), the Gramophone-Award-winning recording of Strauss and Respighi Sonatas (1990) and a Bonus DVD of Mendelssohn Violin Concerto with the Chicago Symphony Orchestra conducted by Sir Georg Solti.
For the spirited violinist the Royal Festival Hall has always played a significant role, simultaneously launching her European career forty-four years ago at the age of 22 and landing her a record deal with DECCA Classics. For the much-anticipated UK concerts, she has chosen a programme of three sonatas by Mozart, Prokofiev and Frank as well as Bach's Chaconne. In recent years, she has worked with pianist Kevin Kenner, a top prizewinner at the International Tchaikovsky Piano Competition. This year, the duo embark on a tour of China before coming to the UK for a performance presented by the Royal Liverpool Philharmonic at St George's Hall Concert Room on 22 November 2014, prior to their London recital.
Kyung Wha Chung shares her excitement for this return: "Going back to Britain is like a homecoming for me," she said. "From 1961 through 1970, the U.S. was my home. And then I had that explosive debut in London. British fans have been loyal to me ever since. Kevin has been my musical partner for the last three years and we have built up a wide range of repertoire together that we have performed side by side."
Frank's Sonata for violin and piano in A major was the first solo work Kyung Wha Chung performed on her return to the concert platform. Following the injury to her index finger of her left hand in 2005 and subsequent withdrawal from the public stage, Kyung Wha Chung devoted her time to teaching and with her cellist sister co-directing the Great Mountains Music Festival, an annual summer series in the Alpensia region of South Korea. Chung returned to her alma mater, the Juilliard School, to share her accumulated wisdom and experience mentoring young musicians.
In 2010 when the Philharmonia toured to Korea, Chung joined the orchestra to perform the Brahms Violin Concerto, the last concerto she played with Gergiev and the Mariinsky. Over the subsequent five years, she has continued to give concerts almost entirely for charity and fundraising purposes, until her triumphant comeback in Asia last year.
As Kyung Wha Chung explains:
"Retiring from the public stage brought on a period of great introspection. I had to re-evaluate my life completely – my values did not marry up with my own capabilities. I just took it as a calling – I had been blessed and now it was time to give back. It started with charity work for my mother's church, then I went to Rwanda with Save the Children in 1997 and have returned every year since. This year, I am going to Rwanda with World Vision to meet the three children who I have supported for 18 years for the first time. At the same time, I served as a mentor to others – teaching and counselling young musicians. They could ask me anything about their lives, often things they couldn't even talk to their own parents about. It's wonderful to offer them guidance as they take the big leap into the world and society. In reality, I never stopped playing the violin – only in public. When I gave that performance 5 years ago with the Philharmonia, it was surreal – we repeated the last movement of the Brahms as an encore. Over the last decade, I've gained far more than I've lost."
On 20 August 2014, Kyung Wha Chung returns to Rwanda to continue her work mentoring the survivors of the genocide. Last spring, following the devastating ferry disaster in Korea, Chung gave a private concert for the families of the victims, bringing them onto the stage with her as she performed, away from the media spotlight. As Kyung Wha Chung explains:
"I have received so much love from the people of my homeland. Now is the time to repay their love. I teach chamber music at Ewha Womans University and I realized that Korea lacks a support system to keep educating young talent. I'm trying to establish a fundraising culture there. Last year, I raised 230 million won (£133k) through unaccompanied Bach recitals and so forth. And then I suggested we go for 2 billion won (£1.16m)…Watch this space!"
Kyung Wha Chung
Kyung Wha Chung's dazzling and probing artistry has made her one of classical music's most acclaimed performers for more than 40 years. Lauded for her passion, her musicality and the intense excitement that she brings to her performances, Chung's uniquely expressive interpretations of the violin literature have established her as an artist of the very highest stature.
Born into a musical family in Korea, Kyung Wha Chung began studying the violin at the age of 6. At New York's Juilliard School, she studied with the legendary Ivan Galamian and later coached with Joseph Szigeti, who also introduced her to art and literature.
Kyung Wha Chung has appeared regularly as a soloist with the world's most prestigious orchestras, working with top conductors such as Abbado, Barenboim, Haitink, Muti, Previn, Rattle and Solti. As a recitalist, Kyung Wha Chung has collaborated with an extraordinary list of important artists including Radu Lupu, Krystian Zimerman and Peter Frankl.
The government of South Korea has awarded Chung its highest honour, the Medal of Civil Merit. In addition, she has been cited by the Sunday Times of London as one of the most important contributors to British cultural life.
Record collectors for four decades have sought out Kyung Wha Chung's releases, many of which have attained legendary status. An exclusive EMI recording artist since 1988, Kyung Wha Chung has made numerous recordings for Angel/EMI, Deutsche Grammophon, London/Decca and RCA. Her recording of the Strauss and Respighi Sonatas for DG with Krystian Zimerman won a Gramophone Award, as did her EMI Classic recording of Bartók's Second Violin Concerto and Rhapsodies under Sir Simon Rattle. Her 1972 recording of the Mendelssohn Concerto has been reissued in Decca's acclaimed "Legends" series.
Kevin Kenner

At the age of 17, American pianist Kevin Kenner participated in the International Chopin Piano Competition in Warsaw and was awarded the 10th prize and a special prize from the jury for his promising talent. Ten years later, in 1990 he returned to Warsaw to win the top prize, the People's Prize and the Polonaise Prize. Earlier that year he won the bronze medal at the International Tchaikovsky Piano Competition in Moscow, together with a special prize for his interpretation of Russian music.
Kevin Kenner has since performed as soloist with world-class orchestras including the Hallé Orchestra, the BBC Symphony Orchestra, the Berlin Symphony Orchestra, the Warsaw Philharmonic, The Czech Philharmonic, the Belgian Radio and Television Philharmonic Brussels, the NHK Symphony of Japan, and in the US with the principal orchestras of San Francisco, San Diego, Salt Lake City, Kansas City, New Jersey, Rochester, Baltimore, St. Paul and many others. He has been invited to work with many renowned conductors, including Sir Charles Groves, Andrew Davis, Hans Vonk, Stanislaw Skrowaczewski, Jerzy Maksymiuk, Kazimierz Kord, Jiri Belohlavek and Antoni Wit.
Kevin Kenner's recordings are distributed by Polish label "DUX" and include many discs of Chopin works as well as recordings of Ravel, Schumann, Beethoven and Piazzolla, the last of which was awarded a "Fryderyk" in Poland 2 years ago as best CD of the year under the category Chamber Music. He has also established himself as a specialist in period instruments and his recent recording of Chopin solo piano works on an 1848 Pleyel for the National Chopin Institute of Poland received a 5 star "superb" rating by the French magazine Diapason. Mr. Kenner served on the jury of the Chopin International Piano Competition in 2010.
St George's Hall Concert Room, Liverpool – 22 November 2014
Royal Festival Hall, London – 2 December 2014