VnA Chuseok: Korean Harvest Moon Festival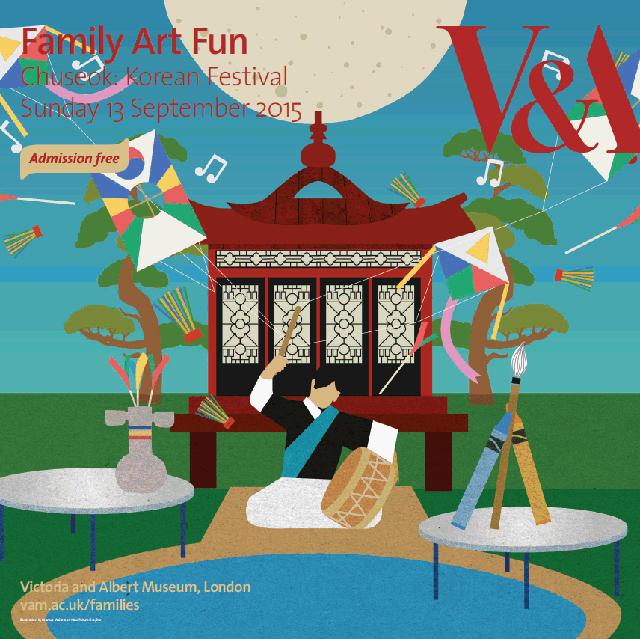 Together with the Lunar New Year, Chuseok is the most celebrated folk festival in Korea. It is held on the fifteenth day of the eighth month in the lunar calendar, which boasts the brightest and fullest moon of the year. This festival marks the start of the harvesting season for fruits and grains.
Chuseok is a time when families gather, wear new clothes or hanboks, and perform various ancestral rites to offer prayers and thanks for a bountiful crop. Families share food and drinks made with the first harvest, and enjoy special games and music.
Korean Traditional Games (11.00 – 17.00)
The Imagination Station (11.00 – 17.00)
Pop-up Performance: Folktales of Korea (11.00, 13.00 & 15.00 (duration 25 mins))
Drop-in Design: Create your own Korean Kite (11.00 – 17.00)
Hanbok Dressing Room (11.00 – 17.00)
Digital Kids: Secret Garden (11.00 – 17.00 (last entry 16.30))
Pop-up Performance: The Bridge Korean Drummers (11.30, 13.30 & 15.30 (duration 15 min))
K-pop dance workshop (12.00, 14.00 & 16.00 (30 mins))
Tour of the Korean Gallery (12.00, 14.00 & 16.00 (duration 25 minutes))
Pop-up Performance: Traditional flute music (12.30 & 14.30 (duration 25 min))
Short film screenings (From 12.00)
Date: Sunday 13 September 11.00 – 17.00
Venue: V&A