Voices from the Past: Shadows of War in Japanese Cinema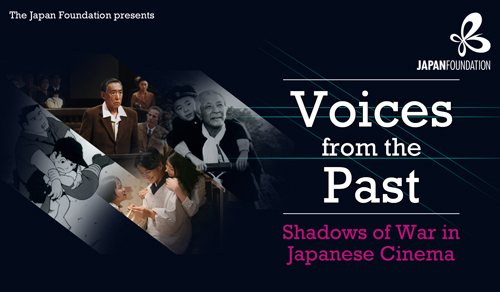 This year marks the 70th anniversary of the end of the Second World War, a war which ended in Japan in August 1945. Since then traces of the war have been prevalent in the arts of Japan right through to today, and cinema is by no means an exception.
Reflecting on life back then, the Japan Foundation has put together a selection of rarely screened films set before, during and after the Second World War, produced by filmmakers, such as Kazuo Kuroki and Yoji Yamada, who strived to depict the experiences of those directly affected by the conflict in different ways.
Tuesday, 11 August 2015
6:30pm The Face of Jizo
Directed by Kazuo Kuroki / 2004 / 99mins / Colour / English subtitles
Thursday, 13 August 2015
6:30pm Eclair
Directed by Akio Kondo / 2011 / 105min / English Subtitles
Saturday, 15 August 2015
11:00am Song of the Spring Horse
Directed by Seijiro Koyama / 1987 / 110mins / Colour / English subtitles
1:10pm Barefoot Gen
FILM CLUB – featuring introduction anddiscussion chaired by Nick Walker
(Rochester Kino)
Directed by Mori Masaki / 1983 / 83mins / Colour / English subtitles
3:20pm Kabei: Our Mother
Directed by Yoji Yamada / 2008 / 133mins / Colour / English subtitles
Tuesday, 18 August 2015
6:30pm Ah, My Voiceless Friends
Directed by Tadashi Imai / 1972 / 106mins / Colour / English subtitles
Thursday, 20 August 2015
6:30pm Best Wishes for Tomorrow
Directed by Takashi Koizumi / 2008 / 110mins / Colour / English subtitles
Saturday, 22 August 2015
11:00am A Boy's Summer in 1945
Directed by Kazuo Kuroki / 2002 / 118mins / Colour / English subtitles
1:30pm Children of Nagasaki
Directed by Keisuke Kinoshita / 1983 / 127mins / Colour / English subtitles
4:00pm Ashita (Tomorrow)
FILM CLUB – featuring introduction and discussion chaired by Jasper Sharp
Directed by Kazuo Kuroki / 1988 / 105mins / Colour / English subtitles