" Voices of Flowers" Ensemble Canon 15th anniversary song concert in the UK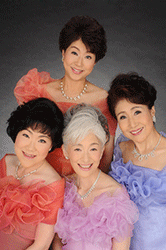 Ensemble Canon (consisting of three Japanese opera singers Nobu Yamada, Toshiko Matsudaira, Yoko Yokoyama and a pianist Yoshiko Toyonaga) will hold concerts in the UK to contribute towards the mutual understanding between the UK and Japan. We will sing mainly Japanese songs; our selection includes art songs, opera arias, lyrical songs, shouka (the Japanese beloved songs), and folk songs.
The selections for the concerts are works by composers who represent the Japanese music world.
Their lyrics are in Japanese from different eras, as from folk songs to modern poems.
The singers have an excellent reputation built over many years performances on opera stages, therefore they will have the expressiveness to make a deep impression on UK audiences singing in Japanese.
At the concerts, a British actress K.Fernald will read English translations of the Japanese songs to the audience. She will also talk about the cultural background of the works. We are sure that she will give a deeper understanding to the audience.
Admission fee: £8、Concessions £6
Date: 9 August 2015
Venue: Burgh House, New End Square, Hampstead, London NW3 1LT, UK
Tel: 020 7947 4164
Organiser: Ensemble Canon / The Tana Trust