Washi: The Art of Japanese Paper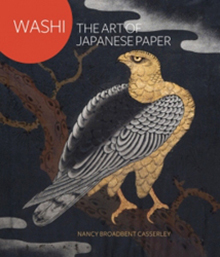 Washi, or handmade Japanese paper, has long held a central role in the domestic, spiritual and cultural life of Japan. Its aesthetic of simplicity, purity and tranquillity mirrors fundamental aspects of Japanese culture itself. At the same time, the striking diversity of washi – ranging from a white sheet of kozo so thin that you can read through it to a gilded, imitation-leather sheet used for bookbinding – highlights the creativity, skill and rigour that underpins this 1400-year-old Japanese craft.
Washi: The Art of Japanese Paper celebrates both the rich history of washi and the stunning variety that exists within the washi universe. The book features images and descriptions of over one hundred pieces from two collections: the portion of the nineteenth century Parkes Collection held in the Economic Botany Collection at the Royal Botanic Gardens, Kew, and the twenty-first century Washi: The Soul of Japan collection. The images are presented in the book within the context of the history of washi in general and the history of the two collections in particular, with explanations of the techniques used to create each piece. Aset of the 12-volume washi compendium published in Japan in 2011 by the Washi: The Soul of Japan committee will be available for viewing on the evening.
* The book will be available on the day at the special price of £10.
Date: 19 March 2013, 6:00pm
Venue: Daiwa Foundation Japan House, 13/14 Cornwall Terrace, Outer Circle, London NW1 4QP
Tel: 020 7486 4348
Email: office@dajf.org.uk
Web: http://www.dajf.org.uk/event/washi-the-art-of-japanese-paper
Organiser: The Daiwa Anglo-Japanese Foundation