We Won't Forget You- Japan Disaster 4 years on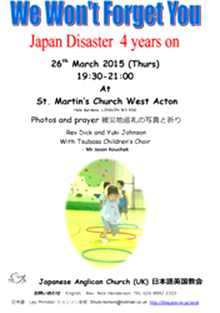 Rev Dick and Yuki Johnson will show photos of areas affected by 2011 disaster taken during the visit last summer and shared our thoughts. We will have prayer to remember those who have been having difficult lives since 2011 disaster.
We will display some craftwork made by residents of temporary housings in Fukushima and any profits will be sent to each of organizations. We will sell jams made by Dick to raise funds to support the programme run by Anglican Church in Japan.
Tsubasa Children's Choir will dedicate Japanese songs and potter Mr Yuzo Hirayama will display his artwork.
Admission Free
Date: 26 March 2015, 19.30 – 21.00
Venue: St. Martin's Church West Acton, Hale Gardens, LONDON W3 9SG
Tel: 020 8992 2333
Email: Shuto-tomoni@hotmail.co.uk
Web: http://blog.goo.ne.jp/jacuk
Organiser: Japanese Anglican Church (UK)