Werner von Schnitzler (violin) with cello and piano by Aiki Mori / Asa Mori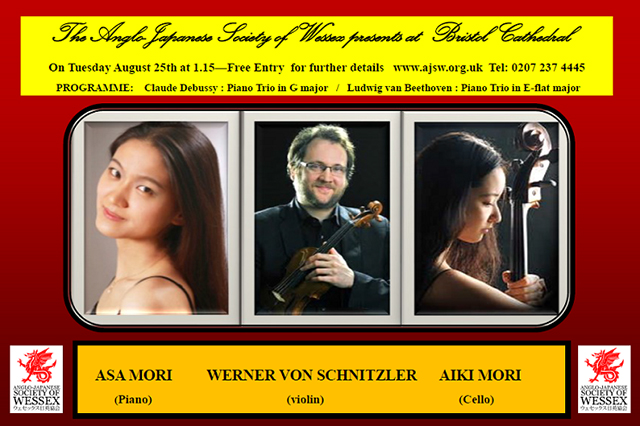 Programme:
Claude Debussy : Piano Trio in G major
Andantino con moto allegro
Moderato con allegro
Andante espressivo
Finale – appassionato
Ludwig van Beethoven : Piano Trio in E-flat major Op. 70, no. 2
Poco sostenuto – Allegro, ma non troppo
Allegretto
Allegretto, ma non troppo
Finale. Allegro
Artist info:
Werner von Schnitzler (1978) is both a violinist and violist and was born in Cologne. He studied with teachers such as Igor Ozim, Victor Tretjakov, Antoine Tamestit (viola) and Harald Schoneweg (chamber music) in Cologne and with Pinchas Zukerman in New York.
As a soloist he performed in Israel and in numerous european halls, including Amsterdam (Concertgebouw), Zurich (Tonhalle and Opera House), Munich (Philharmonie am Gasteig), Vienna (Konzerthaus and Musikvereinssaal), Cologne (Philharmonie), Stockholm (Konzerthaus), Hamburg (Musikhalle), Birmingham(Symphony Hall), Frankfurt (Alte Oper) and Berlin (Konzerthaus) with renowned orchestras, such as Camerata Academica Salzburg, Rotterdam Philharmonic Orchestra, Orchestre National de Lyon, Sinfonia Varsovia, BambergerSymphoniker, Deutsche Kammerphilharmonie Bremen, the dutch and danish Radio-Symphonie-Orchestras, Gürzenichorchester Köln, Münchner Kammerorchester and Hamburger Philharmoniker and collaborated with conductors, such as Sandor Vegh, Heinrich Schiff, Pinchas Zukerman, Gerd Albrecht, HansVonk, Edmond de Stoutz, Marcus Creed and Emmanuel Krivine. He won numerous first prizes in national and international competitions and made a range of TV and radio recordings. In 2010 he released a CD with violin sonatas and the piano trio by Johann Wilhelm Wilms,published by th label ARS Produktion.
Aiki Mori won the first prize and the grand prix in "Classic music, Japan competition" as the youngest cellist in the competition's history. Likewise in "Stars for tomorrow competition" (Japan) she won the highest prize as the youngest cellist. After her successes at competitions, Aiki was invited as a young talented cellist to perform in Ohji hall(Tokyo). Aiki was born in Japan in 1988. She started to play piano at the age of 6. At the age of 8, she decided to play cello, and had her first cello lesson with Hakuro Mohri. At the age of 15, she has been already accepted to Frans Helmerson's class in "Hochschule für Musik und Tanz Köln"(Germany). There she studied chamber music with Anthony Spiri, Harald Schoneweg, Rainer Moog, Richard Gwilt, and Pavel Gililov. She also studied with Alexander Rudin, Wolfgang Boettcher, Young-Chang Cho, Philippe Muller in master classes.
Aiki enjoys playing chamber music. She was invited to a retirement concert from York Hoeller in Germany and invited to play with a member of the NHK symphony orchestra in Japan. Moreover, she appears in a sister's duo with the pianist Asa Mori. In 2009, Aiki graduated from "Hochschule für Musik und Tanz Köln"(Germany). After her graduation, she has got further musical influence with a Russian cellist Karine Georgian and a french cellist Roland Pidoux. Her international concert carrier took places in Japan, Germany, France, Switzerland, Italy, England, Poland, Ukraine and Russia. As a soloist, Aiki has performed with orchestras, such as "Chernigov Philharmonic Orchestra"(Ukraine), "Kaluga Chamber Orchestra"(Russia), and played "Swan (Saint-saens)" with "Ensemble of Anglo-Japanese Society of Wessex"(England) at St George's international Concert Venue for their 15th Anniversary Concert in 2011.
Currently, Aiki is living in Paris where she gets the artistic inspiration.
Asa Mori is a pianist who has been invited to perform in such festivals as "Klavier Festival Ruhr" in Germany, "Ogaki Music Festival" in Japan and "Amadeo Festival" in Holland. She has won numerous prizes in national and international competitions, including "Classical Music Competition Japan", "Nagoya International Music Competition" and "Prix d'Amadeo Jeunesse". As a soloist, she made her debut with the Cracow Chamber Philharmonic Orchestra. Asa was born in Japan. After her studies at Toho-Gakuen School of Music where she performed at the graduate honours concert at Casals Hall in Tokyo, she moved to Germany in 2002 to study with a distinguished pianist, Pavel Gililov at "Hochschule für Musik und Tanz Köln". In 2008 she graduated with first class honours. In 2011 she finished the highest degree of music performance in Germany, "Konzertexamen". Asa performs regularly as a soloist and a chamber musician. She has appeared with "Eurasia Culture Society"; "Villa Musica", established by the government of Rhineland-Pfalz; and "Yehudi Menuhin Live Music Now Cologne", playing with such luminaries as Christian Altenburger, Patrick Demenga, and Klaus Thunemann. She has performed with the solo string players of NHK Symphony Orchestra as well.
Moreover, she has collaborated with Tokuhide Niimi, a well-known Japanese composer. Some of her performances have been recorded by German broadcasts such as SWR and WDR. She also appears in a sisters' duo with the cellist Aiki Mori and has given concerts in Europe and Japan. Asa is a rare pianist who is also trained as a professional Alexander Technique teacher by Nadia Kevan and Ron Murdock at Alexander Technique Centre Nijmegen, Holland. Since January 2014, she is director of the Center for Musicians' Health in International Franz Liszt Academy, Germany. In conjunction with her concert activities, she dedicates herself to teaching the method to musicians, which has gained international recognition.
Date: Tue Aug 25th 2015, 1:15–2:00 pm
Venue: Bristol Cathedral, College Green, Bristol, BS1 5TJ
Tel: 020 72374445
Email: godfreyking316@btinternet.com
Web: www.ajsw.org.uk
Organiser: Anglo-Japanese Society of Wessex