Who Was William Adams?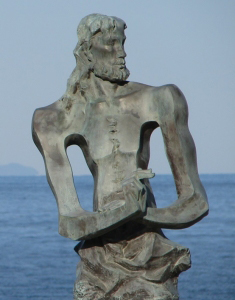 Fascinated by the story of William Adams or Anjin (his Japanese name) since his days as a research student in Japan, Professor Richard Irving of Kwansei Gakuin University is currently researching the life of Adams, the first officially-recognised western Samurai, for a book and has material which will shed new light on the life of Anjin. Professor Irving will give a talk on this fascinating historical figure who was a pioneer of UK-Japan relations. He will tell the story of Adams and Nihonbashi and its 'role' in the building of Edo castle, also touching upon the Adams monument in Nihonbashi and the naming of Anjin-cho in Tokyo. Professor Timon Screech of SOAS, University of London, who is co-organiser of this year's Japan 400 celebration of 400 years of UK-Japan relations, will act as chair for this timely event which explores the shared history of the UK and Japan.
Professor Irving will explain how from humble beginnings in Gillingham Kent, Adams became a master mariner at the age of 24. His first command was a supply ship, essential for the re-provisioning of the English fleet during the running fight along the Channel with the Spanish Armada. In 1598 he was appointed chief-pilot on the ill-fated Dutch voyage to the East Indies. Twenty survivors finally reached land in Kyushu, southern Japan in 1600. Initially threatened with execution by Portuguese Jesuit priests, Adams was imprisoned at Osaka Castle on the orders of Tokugawa Ieyasu, the daimyo of Edo and future shogun. Upon their meeting, Adams impressed Tokugawa Ieyasu with his knowledge of navigation and mathematics. He went on to advise on Japan's relations with Western powers; thus informing the foreign policy of the Shogunate. This talk will introduce more about Anjin's life, his historical significance and contemporary relevance.
Date: 29 October 2013, 6:00pm – 7pm
Venue: Daiwa Foundation Japan House, 13 – 14 Cornwall Terrace, London NW1 4QP. Nearest tube: Baker Street
Tel: 020 7486 4348
Email: office@dajf.org.uk
Web: http://www.dajf.org.uk
Organiser: The Daiwa Anglo-Japanese Foundation