Whose Film Is It Anyway? – Contemporary Japanese Auteurs The Japan Foundation Touring Film Programme 2012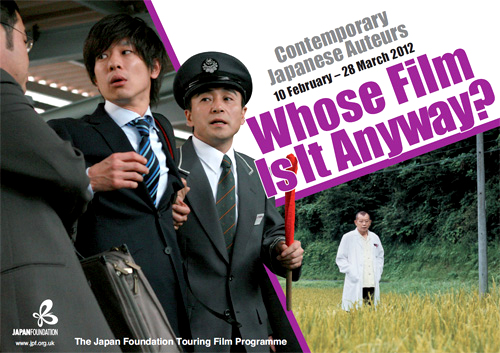 Date: 10 February 2012 – 28 March 2012
Venue: London (ICA Cinema), Sheffield (Showroom Workstation), Edinburgh (Filmhouse), Glasgow (Glasgow Film Theatre), Belfast (Queen's Film Theatre), Bristol (Watershed), Nottingham (Broadway)
This year's Japan Foundation annual touring film programme looks at narrative creativity by contemporary Japanese directors in contrast to the recent storm of adaptations, and how they express their voices through cinema. Ranging from the emerging to the established, this programme showcases directors who are not necessarily well-represented in this country, but whose works demonstrate their keen creativity.
Giants such as Akira Kurosawa and Yasujiro Ozu are renowned for their uniquely creative signature styles, along with more recent examples such as Takeshi Kitano and Kiyoshi Kurosawa, but recent years have revealed a more mundane side to the industry, where the top-grossing titles have largely been generic spin-offs of TV shows or adaptations of other sources such as popular manga and novels unpublished outside Japan, in order to generate audiences based on a pre-existing associated market.
This programme is an effort to demonstrate that there are in fact still a number of Japanese directors who, rather than being swayed by ever-fickle markets and following a "safe" formulaic film model, have instead elected to pursue their own methods of expressing themselves and using film as a voice. 9 directors have been selected for this programme, including the respected Masayuki Suo and unique auteure Miwa Nishikawa.
The Japan Foundation Touring Film Programme continues to go from strength to strength, returning this year with more films and more venues than ever before!
The Japan Foundation would like to thank Jasper Sharpe, Kyoko Hasegawa, and Kiyomi Nakazaki for their valuable advice in deciding the theme and then programme this year.