Will the Aftermath of Fukushima Make the Japanese Think Big?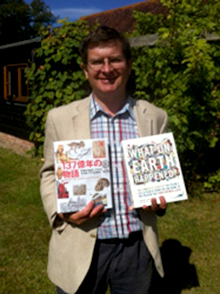 Christopher Lloyd's best-selling world history book What on Earth Happened? was published in Japanese at the end of 2012 and has become an instant non-fiction best seller. The new Japanese edition includes a section on the recent 3/11 Fukushima disaster. In November 2012, Christopher was invited by NHK Television to go and see the disaster zone and the nearby communities for himself. His visit was featured for 10 minutes on the evening news programme News Watch 9. Christopher discovered an extraordinary transformation by some members of the community, in particular after meeting the local town barber Mr Kato. The visit inspired Christopher to wonder if the trauma of Fukushima may yet provoke the Japanese people into thinking big about their future and to pioneer a modern lifestyle that has a more harmonious, robust relationship with nature. After delivering a lecture in Tokyo at the prestigious Kudan High School, Christopher met many young people and asked them about their views on Japanese politics, the media and the country's future post-Fukushima. Christopher will be giving this talk to the Daiwa Foundation to report on his findings, to discuss big history in respect to the Japanese people and their culture and the shock of Fukushima. Christopher will be signing copies of his world history books which will be available for sale after the event.
Contributors:
Christopher Lloyd is a British author, lecturer and educationalist. He was educated at Cambridge University and graduated with a double first class degree in History. He then went on to become Science and Technology correspondent for The Sunday Times in London winning the Technology Journalist of the Year award in 1994. In 2006, Christopher and his wife Virginia home educated their two daughters for five years. The experience stimulated Christopher to write books on Big History, trying to connect subjects together through narrative and visualisation. His books include the best-selling world history book (now in 15 languages): What on Earth Happened?: The Complete Story of Planet, Life and People from the Big Bang to the Present Day and What on Earth Evolved?: 100 Species that Changed the World as well as a series of three fold-out What on Earth? wallbooks. Christopher's first world history book was recently published in Japanese (Bungeishunju Ltd.) and has become a non-fiction best-seller. Christopher visited Japan in November 2012 to see for himself the devastation and aftermath of the Fukushima tsunami and nuclear disaster. Christopher currently divides his time between writing books, journalism, and lecturing all over the world in schools, colleges, museums and literary festivals.
This event is free but booking is essential. Places can be booked at: http://www.dajf.org.uk/events/booking-form.
Date: 28 February 2013, 6.00pm
Venue: Daiwa Foundation Japan House, 13 – 14 Cornwall Terrace, London NW1 4QP. Nearest tube: Baker Street
Tel: 020 7486 4348
Email: office@dajf.org.uk
Web: http://www.dajf.org.uk
ORganiser: The Daiwa Anglo-Japanese Foundation