Winds of Change: Staged Readings 2016 (Part 2: Got to Make Them Sing!)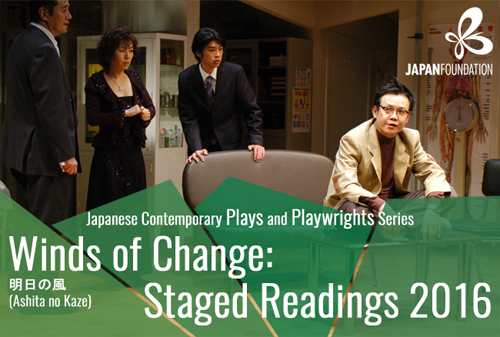 The Japan Foundation, in collaboration with Yellow Earth and StoneCrabs Theatre Company present a new monthly series of events, to introduce to UK audiences the work of some of Japan's most outstanding playwrights, all of which will be heard in English for the first time.
Part 2
GOT TO MAKE THEM SING!
Written by Ai Nagai, Translated by Mari Boyd, Directed by Kim Pearce
Synopsis: At a public high school in Tokyo, a few hours before the annual graduation ceremony, former chanson singer, Michiru, now music teacher and school pianist has lost her contact lens putting at risk her ability to play the national anthem. As the high school's principal and his colleagues try to find a solution, they also have to deal with Haijima, the social studies teacher, who threatens to bring the whole school into disrepute.
Hilariously dark and using the Tokyo Board of Education's decision to punish teachers who fail to comply with the ruling to raise the flag and sing the national anthem at graduation ceremonies, Ai Nagai's contemporary social comedy Got To Make Them Sing calls in to question the very nature of freedom of thought and conscience, and just how far we are prepared to fight for it.
Ai Nagai is one of Japan's foremost playwrights of her generation. Got To Make Them Sing is one of her most popular plays, first staged in 2005 by the Nitosha Theatre Company.
The reading will be followed by a Q&A with Ai Nagai.
Date: 12 October 2016 from 7.00pm
Venue: The Studio Theatre, RADA (Royal Academy of Dramatic Art) 16 Chenies St, London WC1E 7EX