Woman Who Brings the Rain: A Memoir of Hokkaido, Japan By Eluned Gramich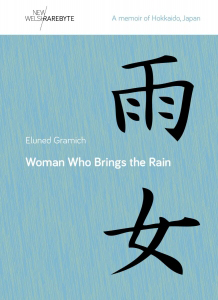 As precise and nuanced as Japanese calligraphy, this memoir of Eluned Gramich's stay on the remote Hokkaido island in the far north of Japan, has at its heart the mountain, Yotei-San, the region's iconic equivalent to Mount Fuji. As much about learning a language (with connotations of 'reading' a wild landscape) as it is about nature, this dignified and nuanced work evokes what is cultured and cultivated, and yet also honours the wild; the untranslatable. With its themes of seasonal transformation, the peripheral, folklore, loneliness and learning to belong, this work takes a personal philosophical stance in relation to the centre and the periphery.
Dan Bradley joins Eluned in conversation to discuss her experience of living in the shadow of the omnipresent Yotei-San, and how this time in rural Hokkaido inspired her writings of the natural world. They will also talk about the broader influence of Japanese literature, considering the translation and dissemination of Japanese literary works in the UK.
Woman Who Brings the Rain is now available on Kindle eBook from Amazon priced £2.99.
Date: 7 December 2015, 6.30pm
Venue: Daiwa Foundation Japan House, 13 – 14 Cornwall Terrace, London NW1 4QP. Nearest tube: Baker Street
Tel: 020 7486 4348
Email: office@dajf.org.uk
Web: http://www.dajf.org.uk/event/woman-who-brings-the-rain-a-memoir-of-hokkaido-japan-by-eluned-gramich
Organiser: The Daiwa Anglo-Japanese Foundation