Workshop: Rethinking 'Japanese' Pop Culture: A Topic for Academic Study?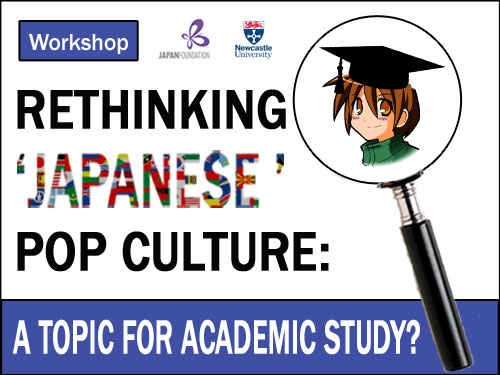 We are delighted to announce that leading Japanese media and cultural studies scholar Professor Koichi Iwabuchi (Monash University), will be visiting Newcastle University in April to lead this special Japanese Studies workshop.
Recent years have seen an explosion of English language scholarship on the subject of Japanese pop culture such as manga, anime and video games. In this workshop, Professor Iwabuchi will encourage participants to explore the challenges and opportunities presented by this study. Can the study of Japanese popular culture lead to a deeper understanding of the diversity of Japanese society in an increasingly globalised world?
This workshop will seek to answer questions like this through a series of interactive and dynamic group discussions.
Professor Iwabuchi will be joined by Dr Gitte Hansen, Lecturer in Japanese Studies at Newcastle University, who will be on hand to facilitate the discussion.
This workshop is designed for any students with an interest in Japanese Studies.
Date: 15 April 2015 from 1.00pm
Venue: Old Library Building, Room 3.14 (Pybus room), Newcastle University