Writing Photography's History in Meiji Japan: New Approaches and Challenges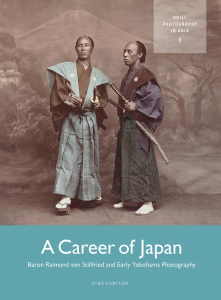 A Career of Japan is the first study of one of the major photographers and personalities of nineteenth-century Japan. Baron Raimund von Stillfried was the most important foreign-born photographer of the Meiji era and one of the first globally active photographers of his generation. He played a key role in the international image of Japan and the adoption of photography within Japanese society itself.
This talk will reflect on the historiographical challenges that were encountered in the writing of the first detailed study of von Stillfried and his work. Dr Luke Gartlan will present a brief overview of the Austrian's career, stepping back from the details of his activities to ask broader questions on the relevance of such studies to the field of Meiji-period visual culture. Why do we need a book on Stillfried? In what ways does his career re-orient current understandings of nineteenth-century photography in Japan?
Dr Gartlan will also introduce the broader themes of his new book, and will argue that the historiographical division between 'Japanese' and 'non-Japanese' photographers misrepresents the entangled nature of Meiji Japan's photographic industry.
A Career of Japan: Baron Raimund von Stillfried and Early Yokohama Photography will be on sale during the evening for the special price of £60 (25% discount on RRP, courtesy of Brill Academic publishers).
Date: 31 March 2016. 6.00pm
Venue: Daiwa Foundation Japan House, 13/14 Cornwall Terrace, Outer Circle, London NW1 4QP
Tel: 020 7486 4348
Email: office@dajf.org.uk
Web: http://www.dajf.org.uk/event/writing-photographys-history-in-meiji-japan-new-approaches-and-challenges
Organiser: The Daiwa Anglo-Japanese Foundation