Experience Japan Exhibition 2015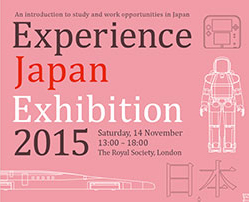 Following the resounding success of last year's event, the Experience Japan Exhibition is back for a fifth year. This event will allow you to find out about the various exciting opportunities to study and work in Japan.
The growing number of English-language degree programmes at Japan's universities offers you the chance to advance your knowledge in this fascinating country, whatever your level of study. Around 20 leading Japanese universities will be attending the event to provide information on these programmes, as well as on the summer courses and other options open to international students.
There will also be a chance to find out about the variety of scholarships and research funding available to enable you to take advantage of these learning opportunities.
The event will introduce other programmes that allow you to experience Japan, such as the Japan Exchange and Teaching (JET) Programme. Experts on working in Japan will also be taking part in the event to provide information on the job market and the opportunities available including internships.
The seminar line-up offers participants the chance to learn about the basics of life in Japan and hear directly from people with experience of studying and working there. Guest speakers will also be delivering presentations that provide insights into Japanese language, modern history and popular culture.
Date: 14 November 2015
Venue: The Royal Society, 6-9 Carlton House Terrace, London , SW1Y 5AG
E-mail: hal.parker@britishcouncil.or.jp
Web: http://www.experience-japan.jp/
Host: Keio University, Co-Host: British Council