YolanDa Brown Japan Benefit Concert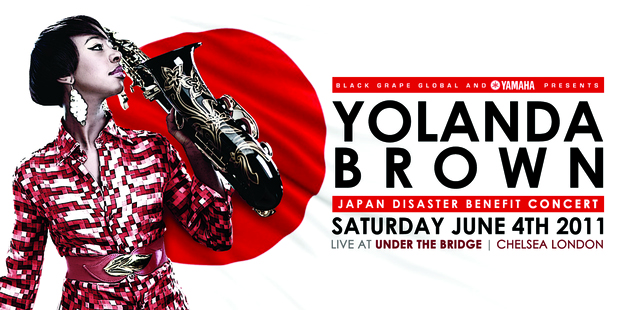 Date: 4 June 2011, doors 7:30pm
Venue: Under The Bridge, Chelsea Football Club, Stamford Bridge, Fulham Road, London, SW6 1HS
Box Office: 08444 771 000
E-mail: management@yolandabrown.co.uk
Web: www.ticketweb.co.uk / www.yolandabrown.co.uk / www.twitter.com/yolandabrownuk
Ticket prices: £35, £50
Organiser: Black Grape Global and Yamaha
Black Grape Global and Yamaha Music are delighted to present a special benefit concert by the double MOBO Award winning saxophonist YolanDa Brown, to help raise funds for The Japan Society's Tohoku earthquake relief fund.
Yamaha Artist YolanDa Brown is widely regarded as the emerging "voice" of mainstream Jazz and one of the UK's most exciting and in-demand live performers, whose concerts are always guaranteed to sell out.
Currently in the studio recording her eagerly anticipated album, due for release in early 2012, YolanDa decided to take time out of her recording schedule to perform the benefit concert with her stunning live band, to help the relief fund and show solidarity with the Japanese people.
YolanDa Brown has made the saxophone truly her own, taking jazz and introducing it to a diversity of genres from soul to R&B, gospel to loping reggae and infectious Latin. YolanDa has performed with some of the music world's most respected artists including Alexander O'Neal, Mica Paris, Omar, Soweto Kinch and Sway and with her own fantastic band in a range of platforms from the London Jazz Festival to the Royal Albert Hall and Barbican, opening for artists including The Temptations, Diana Krall and David Sanborn.
YolanDa Brown told us, "I was deeply touched by the human tragedy of the recent earthquake and Tsunami disaster in Japan, being particularly moved by the unity and dignity shown by the Japanese people. As a Yamaha artist, I appreciate the wonderful support I receive and feel a great affinity with Japan, where the fantastic saxophones I am privileged to play are manufactured. I believe it is time for me to hold hands with Japan."
Yamaha Marketing and Promotions Manager Ian Frankland stated, "The staff at Yamaha UK have been deeply shocked by the tragic events we've all witnessed in Japan. Yamaha's global headquarters and most of our factories are located in Hamamatsu, some way south of Tokyo, which was largely unaffected by the Earthquake. Thankfully all our Japanese friends and colleagues are safe and are continuing to work as normally as is possible in such difficult circumstances. However, so many others were not so fortunate, so we are delighted to be supporting our close friend and inspirational artist YolanDa Brown in her benefit concert for such an important cause."