Yoshiki Classical World Tour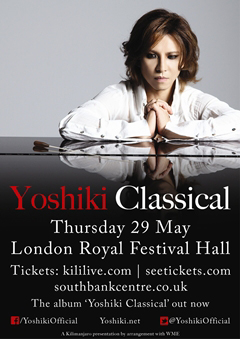 Yoshiki is considered to be one of Asia's most influential musical artists and the biggest rock icon. He will be sharing his new album 'Yoshiki Classical' at the Royal Festival Hall in London.
'Yoshiki Classical' debuted at Number One on the iTunes Classical Music Chart in 10 countries around the world.
Classic FM praises 'Yoshiki Classical' 'enlightening exploration of one musical auteur's quest to turn his music into something more than a series of rock ballads.'
Ticket: £30-£75
Date: 29 May 2014
Venue: Royal Festival Hall, Southbank Centre, Belvedere Rd, London SE1 8XX
E-mail: alan@kililive.com
Web: http://www.kililive.com/
Organiser: Kilimanjaro Live Ltd