Young, Fearless and Limitless – Artist talk – Yo Nakamura and Underground Airport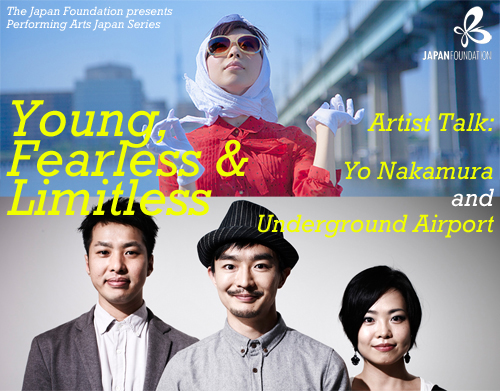 The Japan Foundation is dedicated to supporting performing arts from Japan and through the PAJ (Performing Arts Japan) programme, we have helped bring exciting, cutting-edge artists to Europe to both present and develop their work. Most recently, Underground Airport and Yo Nakamura, both of whom are representatives of a new direction for performing arts in Japan, have been invited by National Theatre Wales to take up a residency for future and further collaborations with the UK, supported by the Japan Foundation.
In this joint artist talk, Yasuro Ito of Underground Airport, a theatre group renowned for portraying society through their metaphorical works, and Yo Nakamura, an award-winning dancer and choreographer, will introduce their careers and work illustrating how they each utilise a variety of media to create their own unique style. Reflecting on their WalesLab project, where they have been able to take inspiration from the people, landscape and history of the area, they will look into how these encounters and experiences could influence their future work and activities, as well as the difficulties they have faced in the borderless and global performing arts world of today. Ito and Nakamura will also be joined for a discussion by Sioned Huws, a British choreographer who has taken part in a residency in Aomori, Japan.
This event will provide the opportunity to discover the future for Japanese performing arts and meet some of the most thrilling young talents that Japan has to offer.
Date: 28 August 2014 from 6.30pm
Venue: The Japan Foundation, London