Yuko Mohri: Moré Moré [Leaky]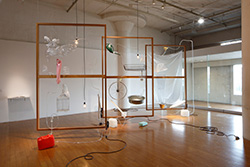 Reflecting upon the work displayed in the current exhibition Lose Your Mind, this talk will consider the materiality of traditional Japenese art, covering the major styles, themes and formats before moving on to the continuity and innovation observed in contemporary forms.
White Rainbow presents the first UK solo exhibition of Japanese installation
artist Yuko Mohri.
Mohri (b. 1980, Tokyo) is an installation artist who recasts reconfigured everyday items and machine parts collected in cities around the world into self-contained 'ecosystems', channeling and conducting intangible energies such as magnetism, gravity, temperature and light.
The focus of Mohri's exhibition will be an installation of her project Moré Moré (Leaky). A long term research project into water leaks the artist noticed in the Tokyo metro, for which the first iteration won the 2015 Nissan Art Award.
The exhibition will run from the 9th of February until 11th of March 2017 with a preview on the 8th of February from 6-8pm.
Date: 9 – 11 February 2017
Venue: White Rainbow, 47 Mortimer Street, W1W 8HJ
Tel: 0207 637 1050
Email: info@white-rainbow.co.uk
Web: www.white-rainbow.co.uk
Organiser: White Rainbow