Yunoki Samiro and the art of Katazome (traditional stencil dyeing) by Miles Dodd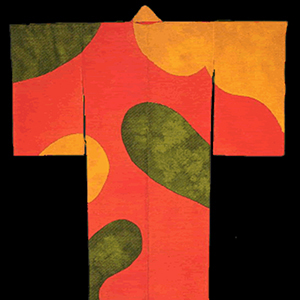 Yunoki Samiro was a pupil of Serizawa Keisuke who was closely associated with the Mingei movement driven by Yanagi Soetsu, Hamada Shoji, Bernard Leach, and Kawai Kanjiro. While Yunoki's early work shows the influence of Serizawa he went on to use the medium of katazome (traditional stencil dyeing) to create works of delightful humour, including reflections of the vibrancy of colour and textures he found both domestically and in his travels overseas. His later work becomes more abstract showing the influence of Czech sculptor Zbigniew Sekal but humour surfaces again with papier maché dolls which he makes for fun. Yunoki is now 93 but was able to travel to Paris for his exhibition "La Danse des Formes" at the Musée Guimet in October 2014/January 2015 and from April to September 2015 at the Museum of Asian art in Nice.
About the Speaker
Miles Dodd spent many years in Japan both in business and in academia. He is a close personal friend of Yunoki. He graduated in law from Oxford University in 1961 but has now come down to earth in Cambridge.
Date: 23 September 2015, 6.00pm
Venue: Sainsbury Institute,, 64 The Close, Norwich NR1 4DH
Tel: 01603 597507
Email: sisjac@sainsbury-institute.org
Web: www.sainsbury-institute.org
Organiser: Sainsbury Institute for the Study of Japanese Arts and Cultures