Discover Korean Food #52: Dr. Sook-Ja Yoon's "Hobakjeon, Pan-fried Summer Squash"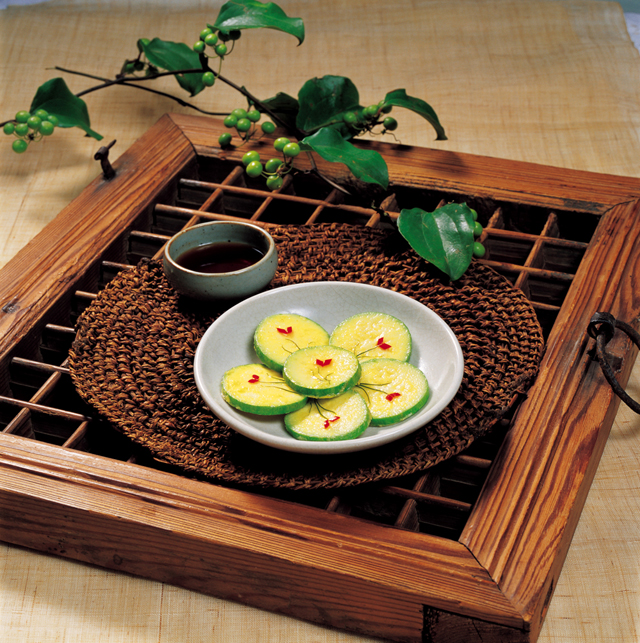 Hobakjeon is a dish of pre-marinated summer squash that is coated with wheat flour and egg wash then pan-fried. It may also be fried with meat stuffing. In olden days, hobakjeon was fried with no coating or only wheat flour coating.
[Ingredients & Quantity]
300 g (medium 1 ea) summer squash, 2 g (½ tsp) salt
5 g (⅓ ea) green pepper, 5 g (¼ ea) red pepper
28 g (4 tbsp) wheat flour, 120 g (2 ea) egg, 0.5 g (⅛ tsp) salt
39 g (3 tbsp) edible oil
Vinegar soy sauce :18 g (1 tbsp) soy sauce, 15 g (1 tbsp) vinegar, 15 g (1 tbsp) water
[Preparation]
1. Wash the summer squash cleanly, slice it into 0.6 cm-thick.
2. Marinate the squash with salt for 10 min. and pot dry (260 g).
3. Cut the green/red pepper into 0.1cm-thick roundly and seed by shaking (green pepper 4 g, red pepper 4 g).
4. Beat egg and mix with salt.
5. Blend vinegar soy sauce.
[Recipe]
1. Coat the squash slices with wheat flour and beaten egg.
2. Preheat the frying pan and oil, set the heat to medium and panfry the squash slices for 2 min.
3. When bottom side is well-done, turn over, garnish with the green/red pepper, fry for 1 min.
4. Serve with vinegar soy sauce.
[Tips]
* Pay attention to control the heat. If the heat is too high, squash may be burnt, but too low, absorb oil too much.