Green Chorus (Japanese women's choir) Lunchtime Recital at St Bride's Church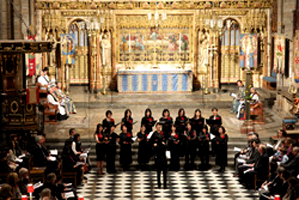 Date: 3 February 2012, 1:15pm
Menu: St Bride's Church, Fleet Street, London EC4Y 8AU
Email: keizushi_greenchorus@yahoo.co.jp
Web1: http://www.nipponclub.co.uk/html/05.html
Web2: http://www.stbrides.com
Organiser: Green Chorus ( Nippon Club)
Green Chorus is a Japanese women's choir based in Golders Green, London, which was founded in 1986. Hence comes the name Green Chorus.
Since the Great East Japan Earthquake and Tsunami on the 11th of March last year, participating numerous charity events, Green Chorus has organised two concerts on their own and raised substantial sum to donate to the people in Tohoku region. They contributed a song at Great East Japan Earthquake Memorial Service at Westminster Abbey on the 5th June 2011.
Green Chorus took part in the chorus events at the Royal Festival Hall called the Voicelab Welcomes. The Group is a regular participant in the Japan Matsuri as well.
The programme for the Lunchtime Recital at St Bride's Church includes Japanese songs traditional and modern, a song written by Vaughan Williams, Elizabethan madrigal and many more.
Conductor: Mikiko Ridd
Piano: Noriko Sekiya
Admission Free