A NEW SPACE AROUND THE BODY: Emerging Korean Fashion Designers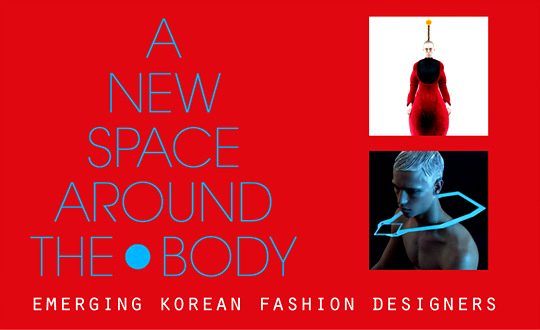 Date: 01 February – 28 Feb February 2012
Venue: Korean Cultural Centre UK
The Korean Cultural Centre UK presents an exhibition that explores the new generation of South Korean designers, whose works are characterised by humour, hypothetic worlds and highly sculptural creations, almost appearing as a frame for the body. Within explosions of colours, modern techniques, craft, and unexpected fabric combinations, their work can be seen as a reconstruction of the constituted ideal of beauty and non beauty, both on a visual, intellectual and philosophical level.
Exhibiting are Ara Jo, Juhee Han, Kathleen Kye, Minky Jaemin Ha, Minju Kim, Unbounded A WE by Laykuni, Yoolhee Ko and Yeashin Kim.
All are graduates from the prestigious fashion departments of the Royal Academy of Fine Art, Koninklijke Academie voor Schone Kunsten in Antwerp, Central Saint Martin's and the London Collage of Fashion. In a short space of time these designers have already had high profile collaborations with figures such as Lady Gaga along with features in Vogue, ELLE, Dazed and Confused and ID magazine.
Curated by Ji Hye Hong and Sofia Hedman (independent fashion curator) this exhibition is also part of the inaugural International Fashion Showcase, developed by the British Council and British Fashion Council.