A special evening with Yoonie Han, 2011 Fulbright Concerto Competition gold medalist, at Steinway Hall London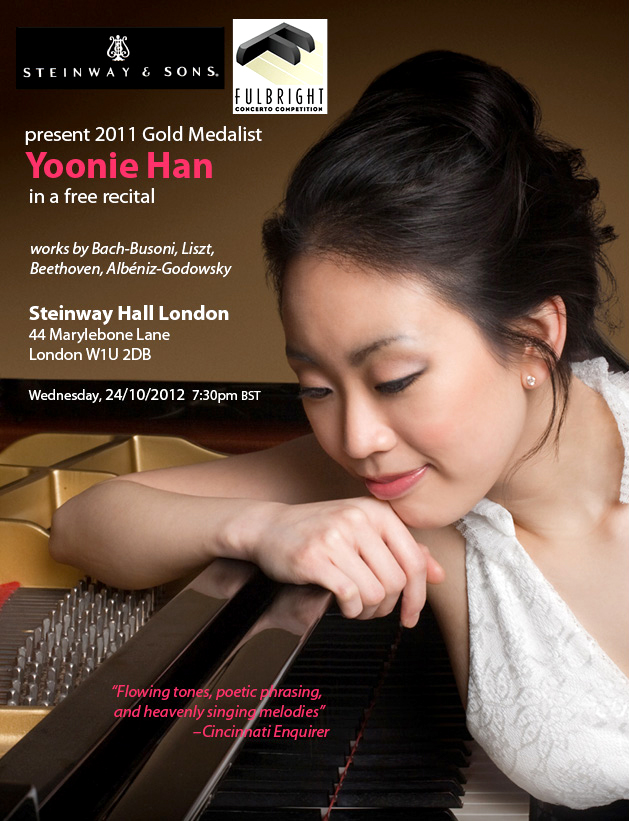 Please join us for a special evening with Yoonie Han, 2011 Fulbright Concerto Competition gold medalist, playing her favourite German, Hungarian, and Spanish pieces on the Steinway piano.
Date: Wednesday, 24th October 2012, 7:30pm – 9:00pm
Venue: Steinway Hall London, 44 Marylebone Lane, London W1U 2DB
Programme: Bach-Busoni (Chaconne in D minor), Beethoven (Sonata in A major, Op. 101), Albeniz-Godowsky (Tango in D major), Liszt (Valse-Impromptu, s.213 / En Reve nocturne, S.207 / La Campanella, S.141)
South Korean pianist Yoonie Han is praised for her "flowing tones, poetic phrasing, and heavenly singing melodies" (Cincinnati Enquirer). She has won top prizes from distinguished international competitions and the highest accolades for her performances in major concert halls in the U.S. and around the world.
In the 2011–12 season, Ms. Han made European debuts with the Berliner Symphoniker at the Berlin Philharmonie Hall, the Bergamo Festival in Italy, and Salle Cortot in Paris. In 2012–13, she embarks upon a recital tour to Steinway & Sons' locations in the U.S. and Europe, Kennedy Center in Washington, D.C., Concertgebouw in Amsterdam, Slovak Philharmonic Hall, and solos with Philippe Entremont and the Boca Raton Symphonia.
In 2009, Ms. Han was honored with the Gawon Music Award as the "most brilliant pianist aged 17 to 31 of any nationality who possesses the most promising potential for global prominence." She is the first-prize winner of the Washington International Piano Competition (2011), the Fulbright Concerto Competition (2011), Juilliard's Gina Bachauer Piano Competition (2008), the World Piano Competition (2008), and the Kosciuszko Chopin Competition (2005), and has garnered major prizes at the Helsinki Maj Lind International Piano Competition and Milan Concorso Pianistico Ettore Pozzoli Internaziole. Following her 2001 grand-prize award in the Korea National Music Competition, the Korean Ministry of Culture named her its "most promising young artist."
Ms. Han made her solo debut with the Seoul Philharmonic at age 13, and has since performed with the Buffalo Philharmonic, Helsinki Philharmonic, Houston Symphony, Banff Festival Orchestra, and I Pomeriggi Musicali di Milan, under such maestros as JoAnn Falletta, Leif Segerstam, and Lior Shambadal. She has performed at Lincoln Center's Alice Tully Hall, Carnegie Hall, Finlandia Hall, Chicago's Dame Myra Hess Concert Series, Se-jong Performing Arts Center in Korea, and Villa Bertramka Mozart Museum in the Czech Republic. Her performances have also been broadcast on WQXR-New York and on National Public Radio's "Artist Showcases."
Ms. Han received a Bachelor's degree from the Curtis Institute of Music studying with Eleanor Sokoloff, and a Master of Music degree from The Juilliard School as a pupil of Robert McDonald. She continues studies with Jean Saulnier.
"A colorful and joyfully performed Haydn Sonata in E-flat Major, Hob. 52. After the light and giddy first movement, the audience erupted into applause… "Los requirebros" (Flattery) was filled with both joy and the requisite flirtation. She showed understanding of multi-layered textures and an admirable sensitivity to the counterpoint and key structure, at the same time masterfully displaying the shimmering figurations. "El amor y la muerte" (Love and Death) was presented with drama, yearning, and passion… Han's natural gift for melody and a charming stage presence made her recital a joy to hear."
–Magdalena Baczewska, New York Concert Review (16 April 2010)
"It seemed as though Han was one with her instrument, with flowing tones, poetic phrasing and heavenly singing melodies. This young pianist has put flawless technique, musical artistry and maturity far beyond her years, together into a terrific package."
–John Toedtman, Cincinnati Enquirer
"Buffalo Philharmonic and Han joined to make Beethoven 3rd concerto utterly captivating. Han was stunning and self-assured. Her graceful tone was conservative, measured and clear. She played with real muscle, but her strong suit was her extreme delicacy."
–Mary Kunz Goldman, Buffalo News
"What a glorious sound Yoonjung Han pulled from her Steinway… The lowest notes purred under her touch, projecting a round, dark tone. Treble notes vibrated amber and gold; under her touch, the instrument always felt centered and secure, happy to be played… Nothing was ostentatious, but the music connected immediately… She accentuated the drama of the piece with dynamics ranging from eggshell softs to looming louds. Phrases gushed and climbed atop the next, building in intensity until they resolved onto the plateau of a noble march; she gave a performance of power and beauty."
–Chris Shull, Fort Worth Star-Telegram
"This young Korean struck me as one of the most winning players we've heard… she could stretch and contract phrases quite boldly without ever sacrificing urgency and overall continuity. Rarely does one hear expression at once so generous and so organic."
–Scott Cantrell, The Dallas Morning News
"Technically impressive. I was even more taken with her quiet, sensitive way of playing."
–Harris Goldsmith, New York Concert Review
"A simply phenomenal player! Absolutely stunning! Her magnificent juicy sound filled up the whole Finlandia Hall."
–Helsinki Post
"From the first measure of Haydn the music-making of Yoonjung Han was magnetic. Every note or chord of her playing is dynamically contiguous with the next in order to form a phrase. Her playing exudes life and breath. Never have I heard a more exquisitely shaped in a performance that should be required listening to demonstrate how phrasing can breathe life into notes. In Chopin Fantasie, she weaved shape and substance mesmerizing, as if a grand narrative were being told. As richly as do verbal phrases, the musical ones spoke their intense tale. Congratulations, you are a master of a rare art: making music speak as well as sing."
–Mike Winter, Van Cliburn Competition official blog
"Han is a versatile performer who relishes the challenge of tackling an extraordinarily turbulent Liszt Concerto. She demonstrated her gift weaving the violent and peaceful together into a singular sonic tapestry. It's exciting to see young performers invest not only their skills but body into performance. What is music if it doesn't energize?"
–Alexandyr Kent, Shreveport Times
"Look for Yoonjung Han to become one of the premiere young pianists of the new decade."
–Jon Sobel, BC blogcritics Music (7 October 2010)
"Han unleashed the fireworks for this piece, demonstrating not just excellent fingerwork but also that she has those virtuoso capabilities in her arsenal."
–Greg Stepanich, Palm Beach ArtsPaper (18 December 2011)