Action for Japan UK: Rikuzentakata Volunteer Project 2012 Review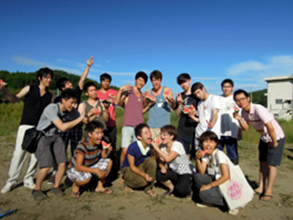 We would like to cordially invite you to the Action for Japan UK event, held on 21st January 2012 at the Japan Foundation in London.
This event aims to show a short documentary on the Action for Japan UK 2012 Rikuzentakata volunteering project which took place during September 2012.
By holding this event, we aim to raise awareness of the tsunami affected area, specifically on one of the worst hit area, Rikuzentakata, their progress on recovery and most importantly, spread the interest in future volunteering projects in the Tohoku area.
Date: Monday 21st January 2013
Time: 6:30 pm – 8:30 pm
Venue: The Japan Foundation London , 6th Floor, Russell Square House, 10-12 Russell Square, London WC1B 5EH
Web: http://www.jpf.org.uk/