After the Disaster: Returning to Normal Life and Play in Tohoku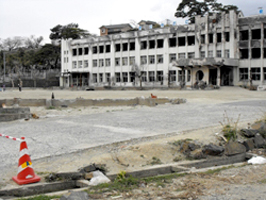 Much western attention on Japan since 11 March 2011 has focused either on the implications of the nuclear disaster at the Fukushima Daiichi nuclear power plant, or on the recovery of the nation's economy. While these issues remain of great importance, it seems that the effects of the tsunami on the lives of ordinary citizens in the affected regions are beginning to fade into the background, as the world turns its attention elsewhere. Moreover, due to the large proportion of older people in the population, and the disproportionate effects of the tsunami on them, the impacts of the disaster on children and how they are able to return to normality have sometimes been overlooked. In this seminar, Peter Matanle will look at plans for the reconstruction of the tsunami affected areas and assess progress achieved thus far, and then Helen Woolley will focus in detail on how the tsunami has affected children's play. In particular, she will show the current state of where children used to play in the outdoors, explain the context of children's outdoor play in temporary housing areas and begin to address some issues for the future as local citizens try to put the disaster behind them, put their lives back together, and re-establish a normal life for their children once more.
Speakers:
Dr Peter Matanle
Dr Peter Matanle is Lecturer in Japanese studies at the National Institute of Japanese Studies and School of East Asian Studies, University of Sheffield
Helen Woolley
Helen Woolley is a Chartered Landscape Architect and Reader in Landscape Architecture and Society in the Department of Landscape at the University of Sheffield.
Dr Christopher P. Hood (chair)
Dr Christopher P. Hood is a Reader in Japanese Studies at Cardiff University.
Free but booking is essential at http://www.dajf.org.uk/events/booking-form
Date: 28 June 2012, 6:00pm – 7:45pm
Venue: Daiwa Foundation Japan House, 13/14 Cornwall Terrace, Outer Circle, London NW1 4QP
Tel: 020 7486 4348
Email: office@dajf.org.uk
Web: http://www.dajf.org.uk
Organiser: The Daiwa Anglo-Japanese Foundation