Ai Japan – Creating footsteps of Hope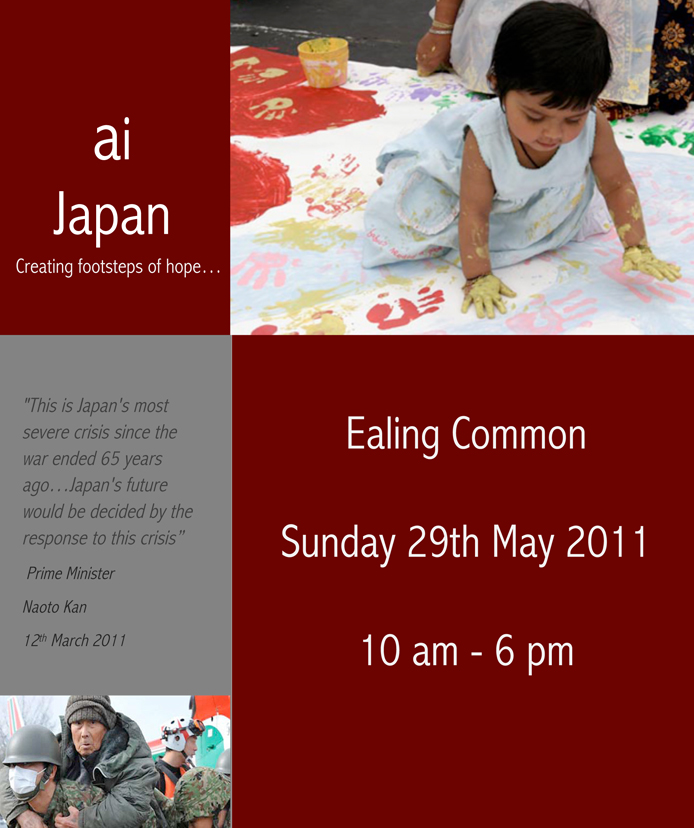 Date: 29th May 2011 (10am-5pm)
Venue: Ealing Park, Ealing Common, London
On March 11th, 2011, the people of Japan were faced with a devastating disaster, the unexpected tsunami left many without family, friends and shelter.
As the victims of this calamity try to rebuild their lives and journey towards a brighter future, we hope to assist their cause through the use of art and inspire some hope…
On Sunday 29th May, Creative Campus will attempt to break a Guinness World Record to produce the largest painting made by footprints, whilst raising funds for the Japan Society Tohoku Earthquake Relief Fund. The fundraising event will take place at Ealing Common, in West London, and will run between 10hrs and 17.00hrs.
India's inspiring and up and coming artist, Jignesh Patel, will stencil out the artwork and invite members of the public to come and foot press on the canvas to create a finished piece of work. Jignesh has previously All the monies raised will be donated directly to the Japan Society Tohoku Earthquake Relief Fund.