Akira Sakata in London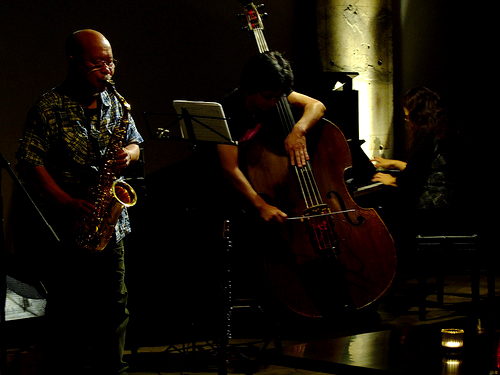 Date: 1 & 2 November 2011
Venue: Cafe OTO, 18-22 Ashwin Street,London E8 3DL
Tel: 020 7923 1231
Email: info@cafeoto.co.uk
Web: http://www.cafeoto.co.uk/koboku-senju.shtm
Organiser: Cafe OTO
Admission: £10 adv / £12 on the door (day ticket) / £18 two day pass
Japanese saxophonist Akira Sakata has been active on the free jazz scene for more than fourty years, with only limited international exposure. A powerfully lyrical improvisor, for these two days he will perform in a trio with 'Chikamorachi' the duo of hyper-kinetic drummer Chris Corsano and bassist Darin Gray.
AKIRA SAKATA
Akira Sakata was born in Kure-city, Hiroshima in 1945. Studied marine biology at Hiroshima university. Formed a group Saibo-bunretsu (Cell fission) in Tokyo in 1969, and was also performing with various free-jazz musicians during this time. Since the late 1960s, Sakata has been a constant figure in jazz and creative music scenes as an ever evolving and adventurous, multi-instrumentalist, and member of classic groups such as Yamashita Yosuke Trio, from 1972 till 1979, and Wha-ha-ha plus many of his own, like the Sakata Akira mii. He has recorded with Chris Cosey, Peter Brotzmann in Last Exit, DJ Krush, Yoshimio, and others.
In 2005 he began peforming with guitarist Jim O'Rourke, drummer Chris Corsano and acoustic bassist Darin Gray. They've since released three albums together. Friendly Pants is the first American release by Sakata in more than 20 years. It pairs the 65-year-old traveler alongside bombast Chikamorachi (Corsano/Gray) and O'Rourke as the producer.
DARIN GRAY
St Louis' Darin Gray has been a mainstay of many a Jim O'Rourke side – the two having first performed together in Brise Gace. Gray has also collaborated with Loren Connors, Kevin Drumm, Bobby Conn and more as well as produced a number of excellent rhythm-section rock moves in his exploratory duo 'On Fillmore' with Wilco drummer Glen Kotche.
CHRIS CORSANO
Chris Corsano has collaborated with such distinguished musicians as Paul Flaherty, Thurston Moore and Björk developing a percussive language of extraordinary amplitude and infinite resources. He is capable of generating narrative out of permanent ecstasy, leading the eternal cry of sax players and blowers of the 60's to its logical consequence – a supreme continuous howl, marveling us with the resonances and with all the plastic/acoustic possibilities of the skin on his kit. Capable of interacting in the most disparate creative and vocabular settings (he's got a wide interest in many musical forms), he never ceases to be profoundly affirmative and imposing of his language, and being an absolute and charismatic virtuoso, he simultaneously is one of the most noble and generous improvisers of the few last decades.
"highly enjoyable, free in spirit, daringly emotional, both in the soft and violent passages… Some of the pieces make you understand why he is easily connected to Brötzmann, because of the fierce energetic power of the Japanese, and the Corsano/Gray rhythm section is also at its best when all hell breaks loose, as in "In Case, Let's Go To Galaxy". But in stark contrast to this, the music can be gentle, sweet even, without using fixed patterns or rhythms, just letting it all flow quite meditatively and free, as on "Un", or finding the right level in between, in a kind of post-boppish mode, where the rhythm section does drive things forward, and Sakata plays the most beautiful melodic lines, as in "That Day Of Rain". This variation, together with his incredible skills, and the powerful rhythm section, makes the (re-)discovery of Sakata a real pleasure and joy for the ears." (Free Jazz Stef)
[pro-player width='550′ height='253′ autostart='true' type='video']http://www.youtube.com/watch?v=1BPhZ3ZU5XM[/pro-player]