ALL TROPICAL TO RUN THE T-SHIRT DESIGN COMPETITION FOR THE SHOREDITCH FESTIVAL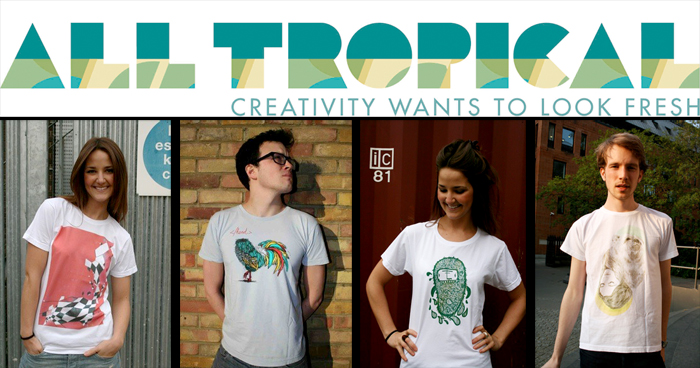 This year All Tropical have joined forces with the award-winning Shoreditch Festival to provide the official t-shirt for the 2011 event. A design competition will run exclusively on the AllTropical.co.uk website where its members will rate and comment on their favourite designs.
The top five t-shirts, as voted by the All Tropical community, will be put forward to a specially convened Shoreditch Festival jury who will select the final winner.
As well as seeing the design sold and worn by people throughout the festival, the winner will receive a prize of £50 in cash and a special set-meal for two at the Waterhouse restaurant in Shoreditch.
The design brief is open but entries should be based on an aspect of the festival or the local area.
Entries should be submitted to All Tropical by the 15th June. The website is free to join, open to all and signing up takes a matter of minutes.
Shoreditch Festival is now in its tenth year and takes place in, on and around East London's waterways. The event is free to all and will be taking place between 15th and 24th July 2011. Last year 30,000 people attended the event and over 1,000 t-shirts were sold.
The Festival is set to feature live music, film screenings, floating stages, dance performances, art commissions, spoken word, theatre shows, heritage trails, podcast expeditions, food markets and plenty more to be explored
throughout the day. Acts already confirmed for this years event include The Raveonettes, Black Lips, Lydia Lunch, The King Blues, Damo Suzuki, The Chapman Family, Black Strobe, Fair Ohs, Autokratz and Zombie Nation.
All Tropical organise weekly and topical t-shirt design competitions and print, market and sell the winning designs. Alltropical.co.uk is an online community of designers, illustrators, painters and visual artists who interact, comment and rate each others work. Every All Tropical winner is selected by members of the website, which is free to join and open to all.
www.alltropical.co.uk
www.shoreditchfestival.org.uk
For more information and high resolution image please contact:
thetoucan@alltropical.co.uk