An Eternal Cycle: Paradise and Purgatory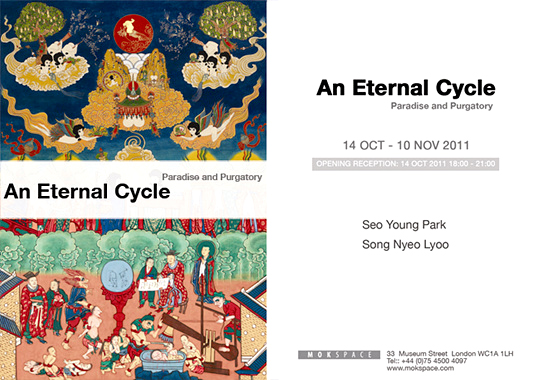 Date: 14 OCT – 10 NOV 2011
Venue: Mokspace, 33 Museum Street, London WC1A 1LH
Mokspace is pleased to present the Buddhist Painting exhibition "An Eternal Cycle: Paradise and Purgatory" with artists Seoyoung Park and Songnyeo Lyoo.
Man has tried to understand the mystery of death since he first walked earth. Most religions have suggested different interpretations of death and what it entails. As for Buddhists, we can gain some appreciate their view through Buddhist paintings.
This exhibition divides Heaven and Hell physically, appropriately hosting the Heaven based paintings on the upper floor and the Hell based work in the basement therefore providing the audience moving from one state to the other. In one work, Seoyoung Park has replicated a traditional Buddhist Hell painting from the Joseon Dynasty and Songnyeo Lyoo has created a contemporary interpretation of Buddhist Paradise paintings.
Buddhist paintings were originally enshrined in Buddhist temples for worship, but in this exhibition they can be appreciated as pure works of art but with an intrinsic religious character. This exhibition encourages people to understand Buddhist paintings as an artistic expression of the teachings of Buddha. It is a chance to look back and into one's life, and think about 'Samsara', the eternal cycle of birth, death and rebirth.