An Evening with Kay Ueyama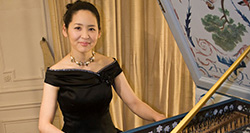 Kay Ueyama, is a prize-winning professional Japanese harpsichordist. Born in London, she grew up in Tokyo. She studied piano at the Longy School of Music in Cambridge, Mass., and harpsichord at the Amsterdam Conservatory, and, in Paris with Christophe Rousset and Huguette Dreyfus. Kay won prizes at the Paola Bernardi Harpsichord competition in Italy in 2003 and in the Yamanashi Early Music competition in Japan in 2005. She teaches at the Kyoto City of Art University and Doshisha Women's College of Liberal Arts, and is active as a soloist and a chamber musician in Europe, the United States and Japan, but has never before performed in the UK.
The event is generously supported by the Great Britain Sasakawa Foundation in collaboration with Cambridge Early Music and their Chair, Dame Mary Archer.
Date: 20 March 2018, 6 :30 Reception, 7 :30pm Recital
Venue: Asia House, 63 New Cavendish Street, London W1G 7LP
E-mail: reception@asiahouse.co.uk
Web: http://asiahousearts.org/events/evening-kay-ueyama/
Organiser: Asia House, London