Anam Kawashima Live Tour 2012 -So,Adults- in London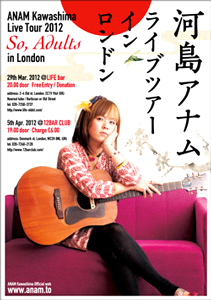 Anam has been playing and singing since the age of 13 when she accompanied her father, the legendary Eigo Kawashima. In 2000 she formed a duo band called " Anam & Maki", releasing 5 albums. She turned solo in 2010, and has toured Japan and China with two albums, including her new work 'So, Adults'.
Anam's evocate songs capture deep, complex feelings about friends, parents, ancestors and the various people we meet in our lives. Her elegant and powerful musicianship has a unique spirit.
This will be Anam's 2nd tour in London since 2003, and offers a rare opportunity to enjoy two evenings of different music. You really can't afford to miss it.
Date: 5 April 2012
Venue: 12BAR CLUB, Denmark st, London WC2H 8NL (UK), Tel:020-7240-2120
E-mail: anamk@me.com
Web: http://anam.to/
Web3: http://www.12barclub.com/
Organiser: Slowtrain