Artist talk -moment- Noritake Kinashi in conversation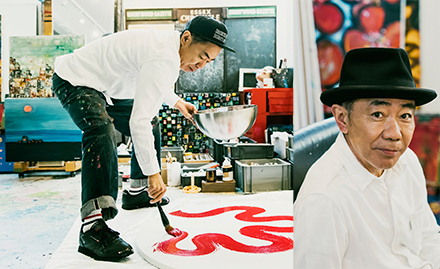 In June 2018, the work of anglophile and polymath Noritake Kinashi will be appearing in a new exhibition, introducing the latest phase of his ongoing creative project 'REACH OUT'. Also an actor, musician and comedian, Kinashi will showcase a series of paintings created as a result of his unique observational point of view, with his dynamic and non-conformist, yet ever-evolving brush style.
To celebrate his first show in the UK, Kinashi, in conversation with Dr Lena Fritsch, a specialist in 20th and 21st century Japanese art and photography, will discuss how he draws inspiration from everyday life, and how his art activities influence his acting and comedy performance, and viceversa.
Date: Tuesday 19 June 2018, 6:30pm (Door opens at 6:10pm)
Venue: Screening Room (basement), Charlotte Street Hotel, 15-17 Charlotte Street, Fitzrovia, London W1T 1RJ