Asiana Starts Flights from Gimpo to Beijing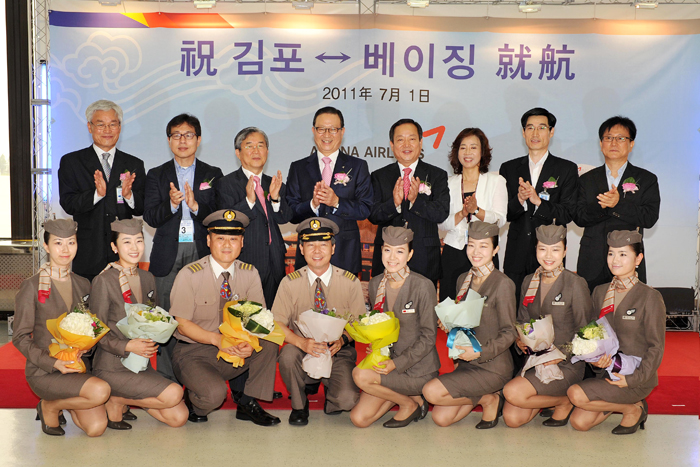 Asiana Airlines (President: Young-Doo Yoon) inaugurated flights of Gimpo/Beijing starting from the 1st of July.
Before the inaugural flight, Asiana Airlines President & CEO Young-Doo, Yoon, Seoul Regional Aviation Administration Safety Operations Chief Keun-Soo, Kim, Korea Airports Corporation Seoul Director Kwang-Yup, Ahn and other distinguished guests held an inauguration ceremony at the 3rd floor departure gates of Gimpo International Airport on the 1st of July at 9:00am.
Asiana will be deploying the new A330-300 to the Gimpo/Beijing route with a seating capacity of 290 seats. Daily flights will depart Gimpo at 9:50am (Korea Time) and arrive in Beijing at 10:45am (Local Time). Flights departing from Beijing will be at 11:55am (Local Time) and arriving in Gimpo International Airport at 15:00pm (Korea Time).
Asiana Airlines, in celebrating the newly established route, will be handing out the Korea Pass to all passengers on the inaugural flight of OZ3325 to Beijing. The Korea Pass is a prepaid card worth 20 thousand won which can be used as a payment method while traveling inside Korea. Asiana and the Korea National Tourism Organization will hand out one free round trip ticket of any Chinese routes that Asiana operates to and Korea Pass worth 300thousand won to the first passenger entering Gimpo from Beijing.
As a sign of appreciation, Asiana will be servicing traditional Chinese Moon cakes towards all passengers using the Gimpo/Beijing route during the period of 15 days. Also Asiana will be servicing the 'Bibimbab' a representing Korean cuisine to the Business Class passengers to catch the Chinese tourists' appetite.
Asiana along with its Star Alliance member carrier Air China will be code sharing on this route. Passengers are now able to select from a wider range of schedules while traveling on this route.
Asiana Airlines flights will be departing Gimpo International Airport during the morning time of 9:50am and during the evening Air China code share flight will be arriving at Gimpo at 21:50pm making Gimpo/Beijing a one day life zone.
With the newly inaugurated Gimpo/Beijing route, Asiana now flies to 21 cities, 31 routes, on a 198 weekly flights between Korea/China making Asiana the largest airliner to fly the Korea/China route.