Asiana's Overseas Crew (OSC) Family Day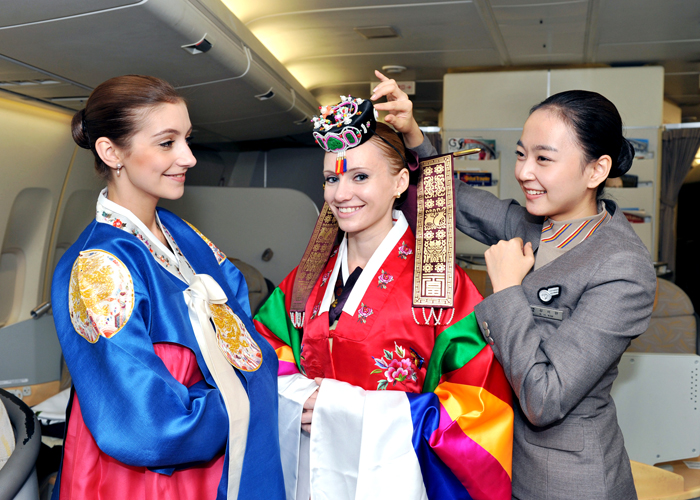 Asiana Airlines (President: Young-Doo Yoon) will be conducting a two day 'Overseas Crew Family Day' event by introducing the Korean culture and Hallyu (Korean Wave) towards the families of the Overseas Crew.
Asiana invited 90 family members of 6 countries Chinese, Japanese, Thai, Philippines, Vietnam, and Uzbekistan to Korea in which the families took tours of Kyunbok Palace, Myung-dong, Namsan and other touristic attractions around Seoul. Also the families visited Asiana's Head Quarters in Seoul and took tours of its facilities, and provided experience of the Korean culture by wearing traditional outfits, Hallu(Korean Wave) style make up and received Asiana's top notch in-flight services.
Asiana Airlines OSC (Overseas Crew) flight attendant Alexandra Levina from Uzbekistan also attended the event to experience the traditional Korean culture before her marriage to a Korean man this October. Levina commented "I showed interest towards the Korean culture and wanted to experience it before my marriage. The traditional marriage clothing is so admirable. "commented Levina.
This event was established to provide closeness of Korean culture and Asiana Airlines towards the Overseas Crew and their families simultaneously provide the superiority of the Korean culture. Asiana Airlines started this event last year and around 220 family member of the OSC (Overseas Crew) have visited Korea.