Between Tiers: Wook Heo, London Solo Show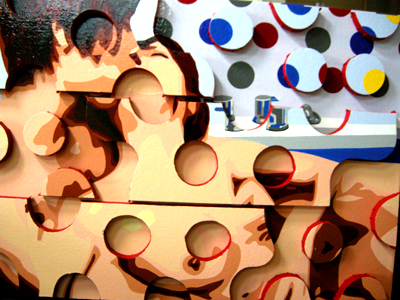 Date: Friday, 25 January 2012 – Tuesday, 7 February 2012
Venue: Mokspace, 33 Museum Street, London, WC1A 1LH
«Between Tiers» is an extension of Wook Heo's series of work shown in the group exhibition «The SpaceBetween» presented by Oriental VisArt in Geneva during March 2011. The artist disassembles and reassemblespainted media to create unique works that are neither painting nor relief. Through the reconstructionprocess his works form layers and colour fields that alter the meaning of his subject matter and encouragethe viewer to analyse and find perspective in the many new layers of the work.
Whilst Heo's technique remains the same, his subject matter has expanded to not only include cars, interiorsand material elements associated with consumer society, but highly eroticised imagery of men and women.The artist has previously indicated an interest in showing the connective point between convergence anddivergence of cultural life and identity in contemporary civilisation. His reconstitution of images of womenas represented in these latest works as objects of desire render them neither less nor more desirable thanthe vintage cars, high-brow literature or consumer goods as depicted in other works. Their abstractiondraws our attention away from creating an interpretive framework based merely on the subject matter. Insteadthe artist invites us to make an analysis of what lies between reality and representation, incited by themyriad of ways in which the surfaces and layers of the work can be viewed. His use of solid primary colourblocks and the layering of material forces us to look beyond the superficial to imagine perhaps a differentscenario – perhaps one less brash and vibrant – to a sub-culture that is more perverse and flagrant.
Born in Seoul in 1973, Heo completed his studies at the Ecole des Beaux-Arts in Paris specialising in painting,drawing, architecture and multi-media in 1998. His work has featured in numerous group and solo exhibitionsin Korea since 2001. «Between Tiers» is the artist's first European solo exhibition following on from hisparticipation in his first European group show in 2011, also presented by Oriental VisArt.