Beyond Words, Beyond Borders: Messages to Tohok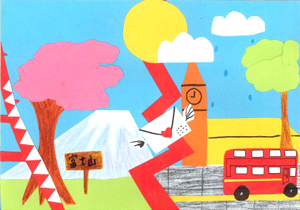 Date: 5 – 30 September 2011
Venue: The Embassy of Japan in the UK, 101 – 104 Piccadilly, London W1J 7JT
Email: info@ld.mofa.go.jp
Web: http://www.uk.emb-japan.go.jp/en/event/webmagazine/Sep11/JS_Exhibition.html
Admission: free, Monday – Friday, 09:30 – 17:30
Organiser: The Japan Society
Schools throughout the UK responded quickly and generously to news of the Great East Japan Earthquake, which struck on 11 March 2011. They delivered thousands of messages of support, organised fundraising events and sought ways to find and share information. While some had no previous connection with Japan, others have been working for many years with Japanese partners to create an educational community which crosses physical and linguistic boundaries.
Beyond Words, Beyond Borders celebrates the activities of school students in response to this disaster. It demonstrates their imagination and creativity as they reach out in many different ways. The exhibition also features some of the ongoing work by schools in creating partnerships and developing friendships on the other side of the world.
The Japan Society's schools education programme provides educational resources, school visits, grants, and workshop-based training, as well as school links, partner-finding services and other forms of assistance. It directly supports over 100 British school links with Japan through various means, including translation services for teachers and a bilingual website for students, Japan-UK LIVE! Following the Great East Japan Earthquake, it has forwarded letters from British schools to over 300 schools in Tohoku: all were first translated by Japan Society members and volunteers on the Japan in Your Classroom programme.
The Earthquake Letters Project is an effort by the Japan Society and its membership to educate and involve children in relief effort projects such as the Japan Society Tohoku Earthquake Relief Fund, which was formed to provide long-term support to NPOs and voluntary organisations in the affected areas on locally agreed projects which contribute to the rebuilding of affected communities.