BO NINGEN COLLECTIVE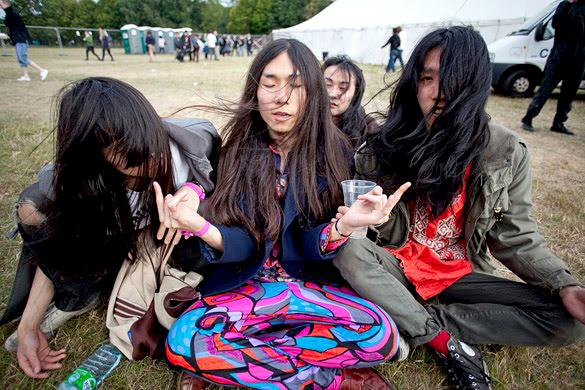 Date: Thursday 26nd May 2011 (8.00pm)
Venue: Cafe OTO, 18-22 Ashwin St, Dalston, London E8 3DL
Email: info@cafeoto.co.uk
Web: www.cafeoto.co.uk
Tickets: £5 adv. / £6 on the door
Tonight we will witness exclusive side project sets from Bo Ningen members before they play as Bo Ningen. BO NINGEN The four skinny Japanese guys combined big hair, big guitars, catchy riffs, socklessness, a pinch of insanity and some fine songs to create a simply mesmerising set that has the attention of everyone in the theatre.
In its obbession with repetition and the twisted patterns of its ungraspable musical narrative which are Intense, androgynous, visceral and genuinely unlike anything you have ever heard before, this surrealist performance-art-cum-metal-cum-rock'n'roll-cum-noise-cum-fucking-sci-fi outfit channel everything from King Crimson, Amon Duul, Boredoms, Steppenwolf and Igor Stravinsky into a car-crash of untamed sonic abandon (watching Bo Ningen commune onstage is a little like watching people who dropped in on their way back from outer-space in the middle of a mystical feedback-drenched trance that veers wildly across genres like an out of control Landspeeder)
"They're fantastically energetic, often brain-crushingly heavy, and quite probably the most exciting young band in London right now. The foursomes feral punk/metal approach and hectic tempo changes nod to Jap freak-out combos such as Acid Mothers Temple, Melt-Banana, Boredoms and Boris." MOJO magazine
If someone in the 1960's had imagined ('qualted space: 1999' style) what rock and roll would sound and looks like in 2010, Bo Ningen is what they would have heard in their head.
[pro-player width='530′ height='253′ autostart='true' type='video']http://www.youtube.com/watch?feature=player_embedded&v=8aBXuO-rrCo[/pro-player]