Bon dance workshops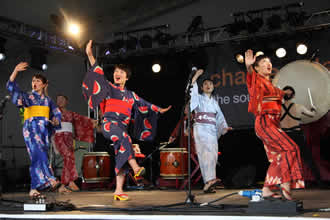 Come and join bon dance workshop and performance , and be a part of Big Dance 2012 !
1, 8, 15, 22 & 29 June 2012, London
This project is for older people in Islington, but people from other part of London are welcome.
In the first two weeks, members of London Bon Dancers will give workshops about bon dance, teaching the movements unique to the dance.
In the third and fourth week, using the various movements, the group will create new bon dance choreography.
In the fifth week, the group will showcase traditional Bon Dance as well as the new bon dance they have created in front of the public.
Towards the end this performance, the group will give 3 to 5 minutes workshop to audiences culminating in a big dance involving audiences and everyone.
This project is part of Big Dance 2012, the biggest dance event in UK, and one of the highlights of London 2012 Festival. http://www.bigdance2012.com/
1st,8th, 15th , 22th June (workshop) 29th June ( performance)
Participants are expected to attend all workshops.
1, 8, 15, 22 & 28 June
Peel Centre, Peel Circus, London WC1X 9EY
E-mail: Akiko5@btinternet.com
http://www.muarts.org.uk
mu :arts